When you go to a restaurant, it's not only about what's on the plate but also what surrounds it.
Imagine stepping into a restaurant where every corner tells a story.
In Bangkok, a city bursting with flavors and creativity, some restaurants have turned interior design into a culinary art form.
From relaxing and elegant designs to vibrant and exciting decorations, these interiors play a vital role in setting the perfect mood for your meal.
And they're amazing for taking incredible photos.
Let's take a look at the 5 best restaurant interior designs in Bangkok that combine outstanding gastronomy with stunning aesthetics.
Pastel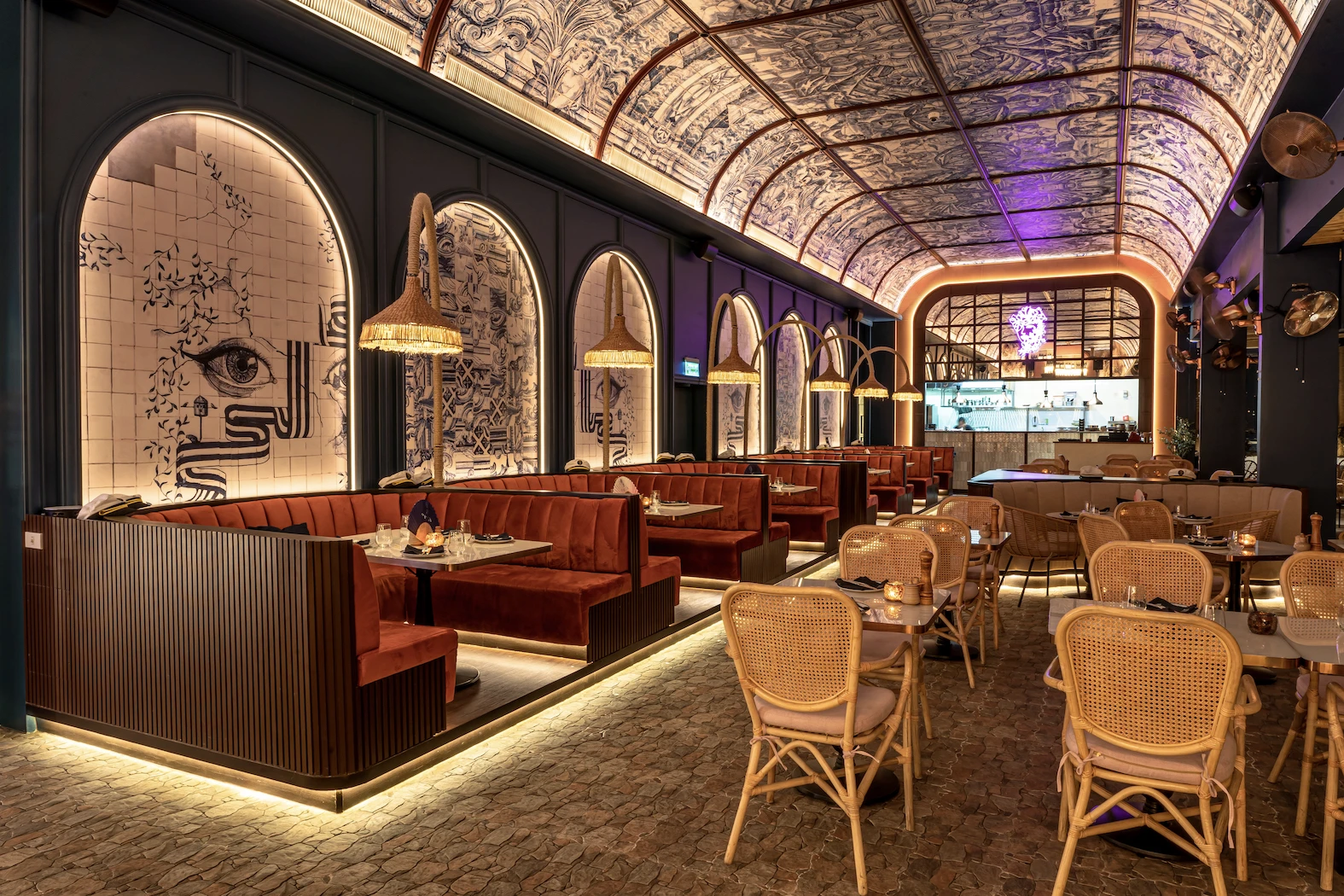 Pastel has quickly become one of the most popular restaurants in Bangkok for many reasons.
It is one of the most Instagrammed spots in town thanks to its beautiful bright theme, incredible rooftop views, and exciting open restaurant design.
Inspired by Mediterranean vibes, Pastel uses interior design colors you would see at cafes and restaurants in the south of France, or in Spain, Greece, and Italy.
The pastel colors combined with Mediterranean-inspired furniture and layout create a bright space that is super elegant but also very trendy.
Pastel features gorgeous visual aesthetics with a magical charm, which is created using a pastel color theme that can be seen across all of its décor and other design elements.
This makes Pastel Bangkok a perfect hangout place where you can come relax or have a wild party.
The restaurant and rooftop bar has a warm and inviting atmosphere during the day.
As the sun sets and the night takes over, well-designed bright neon lighting gives the restaurant a more festive atmosphere.
The layout of the restaurant also makes it super easy to have any kind of dining or party experience you want.
If you want an intimate setting with friends, there are large cozy sofas to chill on or sit on the stools with high tables on the terrace as you enjoy the view of the city skyline.
On the other hand, if it is an epic party you are looking for, Pastel has all the necessary design elements and seating arrangements to feel like an exciting club.
Come experience Pastel design, atmosphere, and food.
Anaconda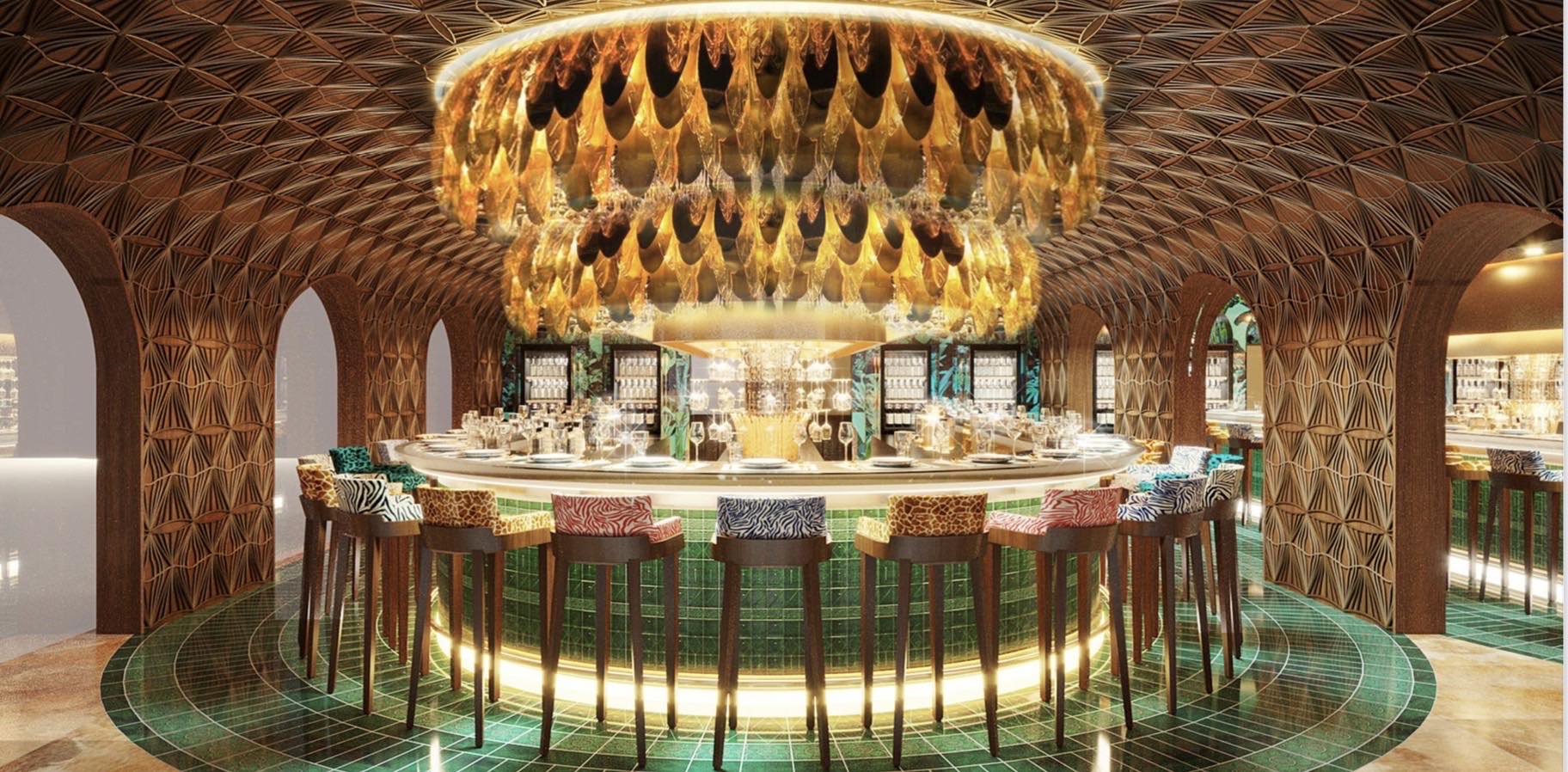 If you are looking for excellent restaurant interior design ideas, look no further than Anaconda.
Anaconda is a Latino Nikkei restaurant in Sukhumvit Soi 11 that has a luxurious and chic interior design that is truly impressive.
Decorated with classy green, golden, and brown hues, Anaconda rocks a modern look that is incredibly appealing to the eye.
It gives the space a sophisticated ambiance.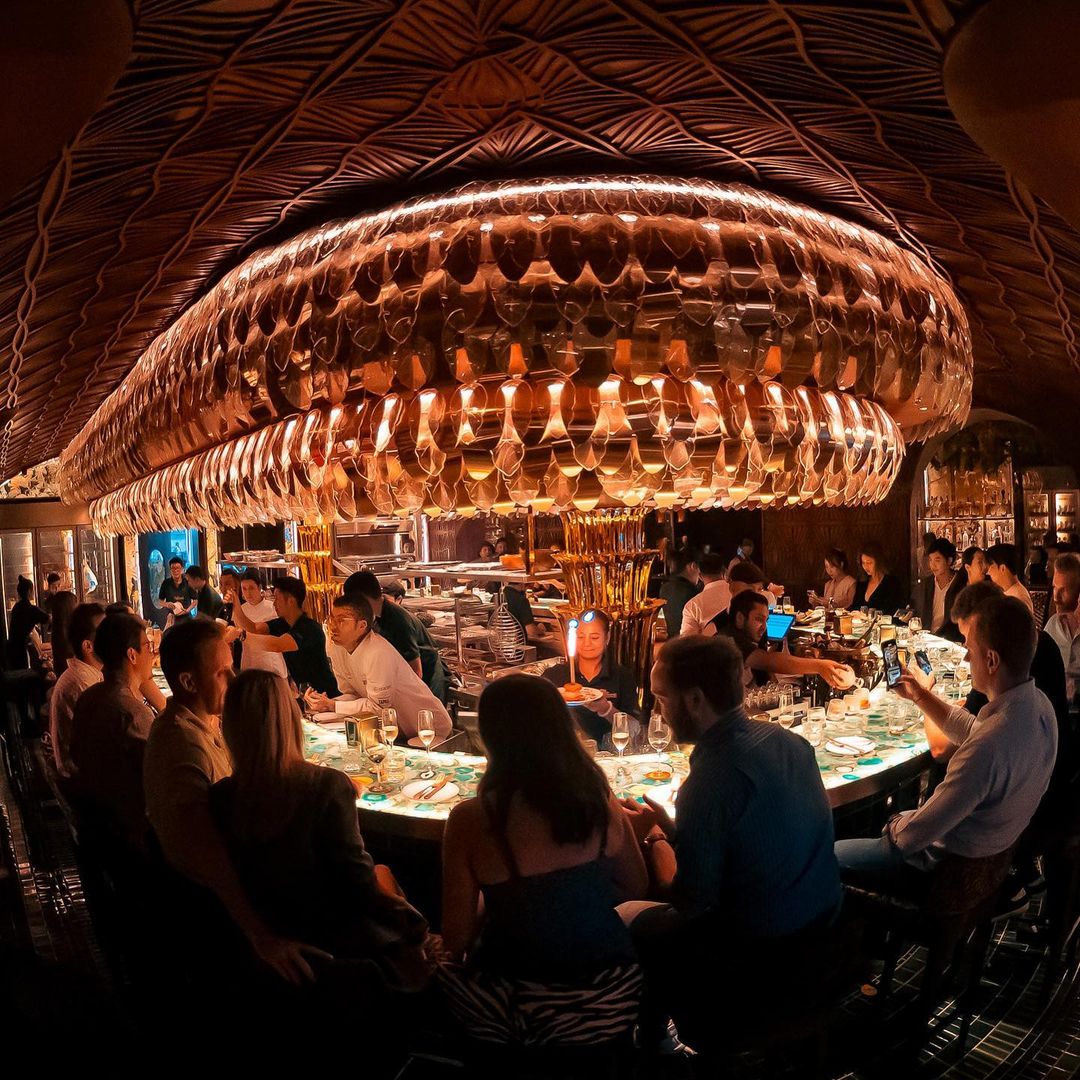 There are also jungle or tribal elements in the décor, which creates a cozy and welcoming atmosphere with somewhat of a wild touch.
The restaurant revolves around a U-shaped bar in the middle with tables and chairs around it.
There is also a massive golden chandelier that hangs above the bar, which is nothing short of a design marvel.
This not only gives it a unique look but it is also a great design for splitting the space in half.
On one side is an open setup that is perfect for friends who want to come in just for drinks, and on the other side something more private for those who want an intimate dining experience.
Iron Fairies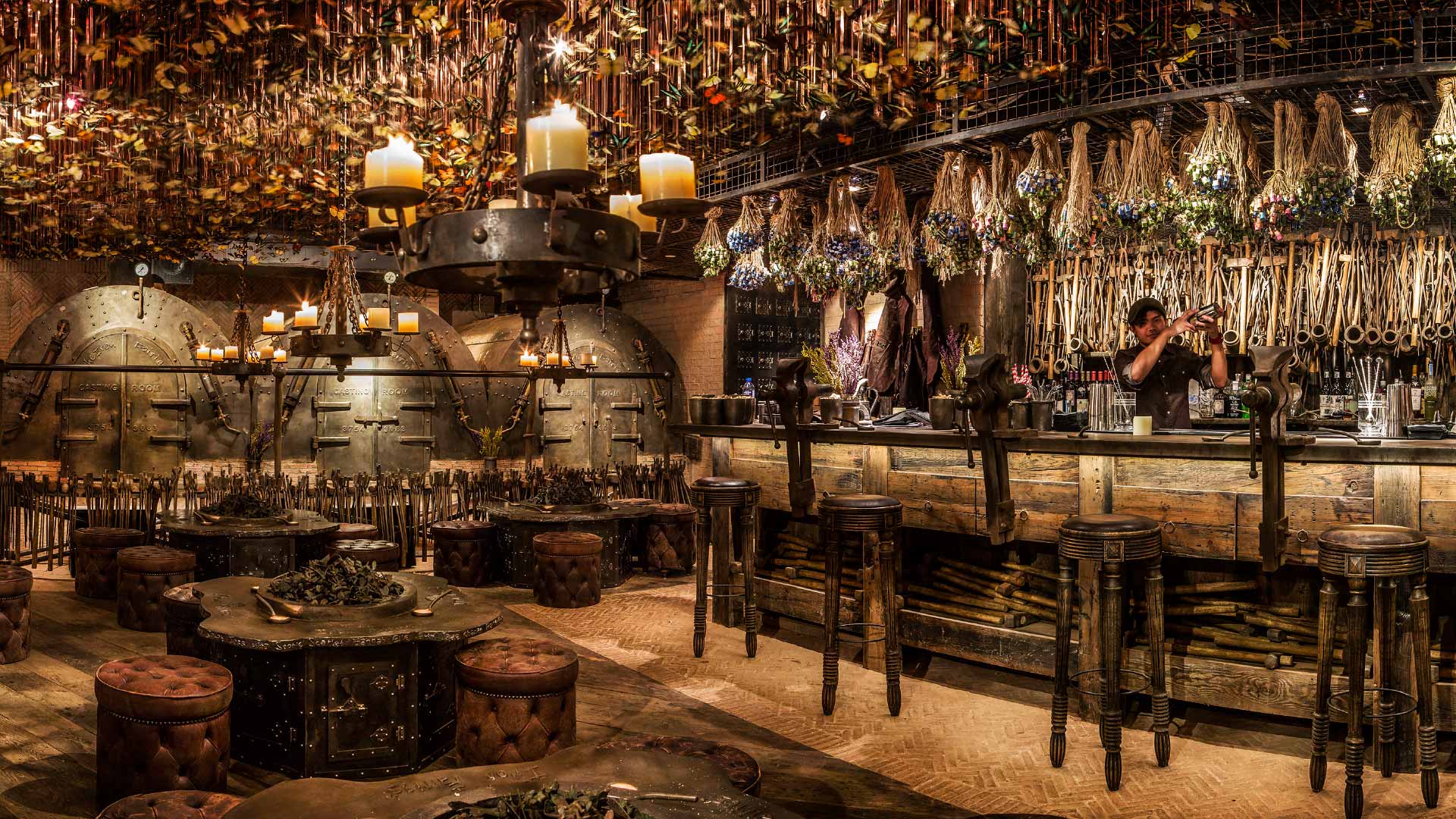 Iron Fairies is one of Bangkok's most interesting and unique restaurants and bars.
Hidden behind a large wooden door, Iron Fairies transports you to a magical and enchanting world of remarkable dining, mysterious vibes, extraordinary entertainment, and superb cocktails.
Iron Fairies combines an industrial interior design concept combined with gothic and rustic elements.
Stepping inside this 2-story venue feels like you stepped aboard a steampunk-style vessel.
Some even say it looks like an apothecary or a set straight out of Harry Potter.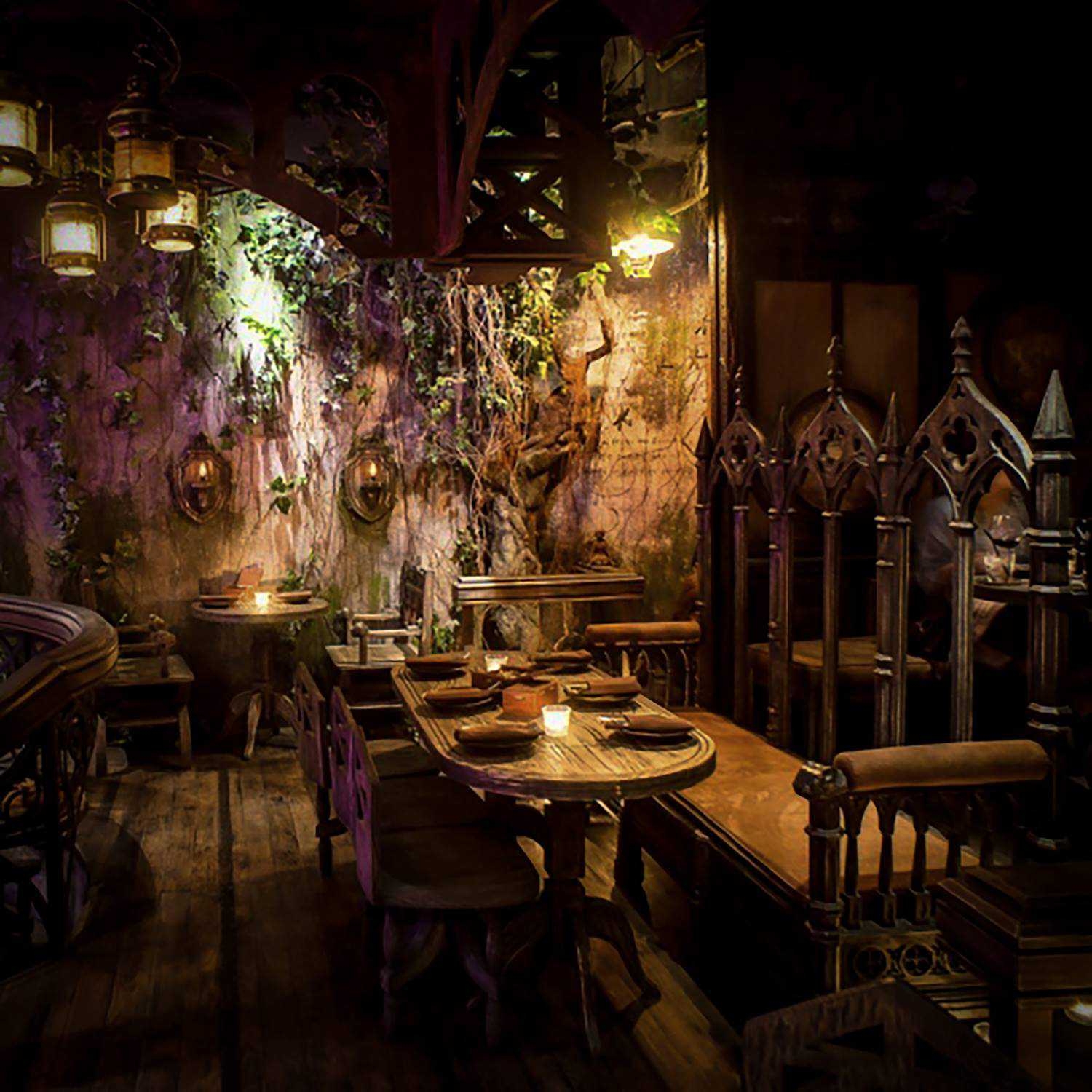 That is what makes this venue so special because it is truly hard to describe.
The bar and restaurant seem to connect with people differently but it certainly knows how to stimulate their senses.
Overall, Iron Fairies creates an amazing ambiance with gothic architecture, rustic décor, dim warm lighting, and unique design elements of an industrial-style bar.
That makes it a great place for both intimate dinners and late-night parties.
Escape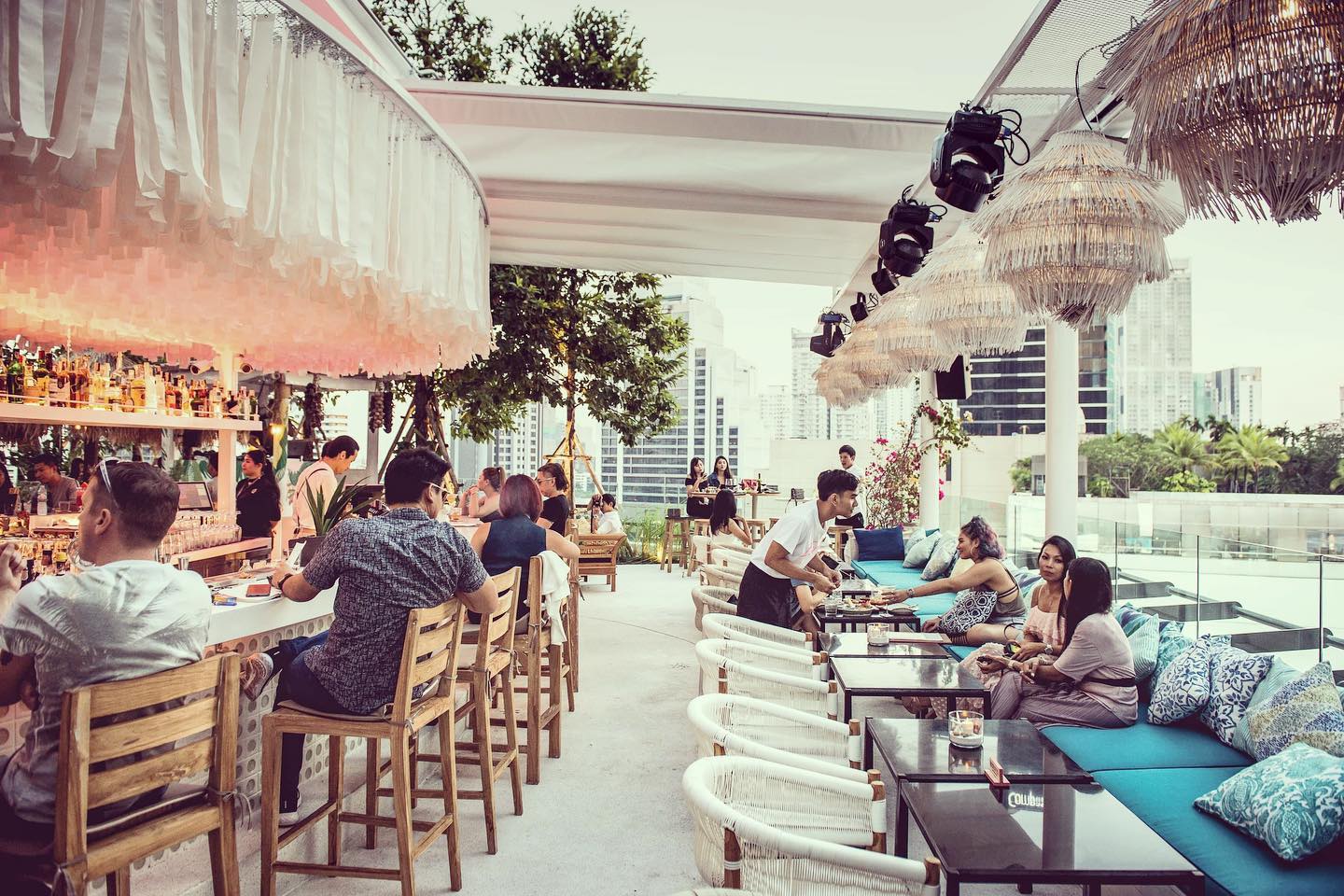 Escape Bangkok does exactly what the name implies – it provides an escape from the bustling streets of Bangkok.
It is a wonderful urban oasis on the 5th floor of EmQuartier shopping mall, right next to Phrom Pong BTS station.
When it comes to interior design for restaurants, Escape has done it incredibly well with its tranquil tropical vibes and bright colors.
This rooftop restaurant has 4 zones, each distinctively designed to create a unique atmosphere.
Whether you want a romantic dinner, cocktails by the bar, or a private party, Escape is perfectly designed to accommodate every occasion.
They use a variety of design styles in each zone but they also keep a homogenous theme.
Escape blends different styles like modern, rustic, and vintage.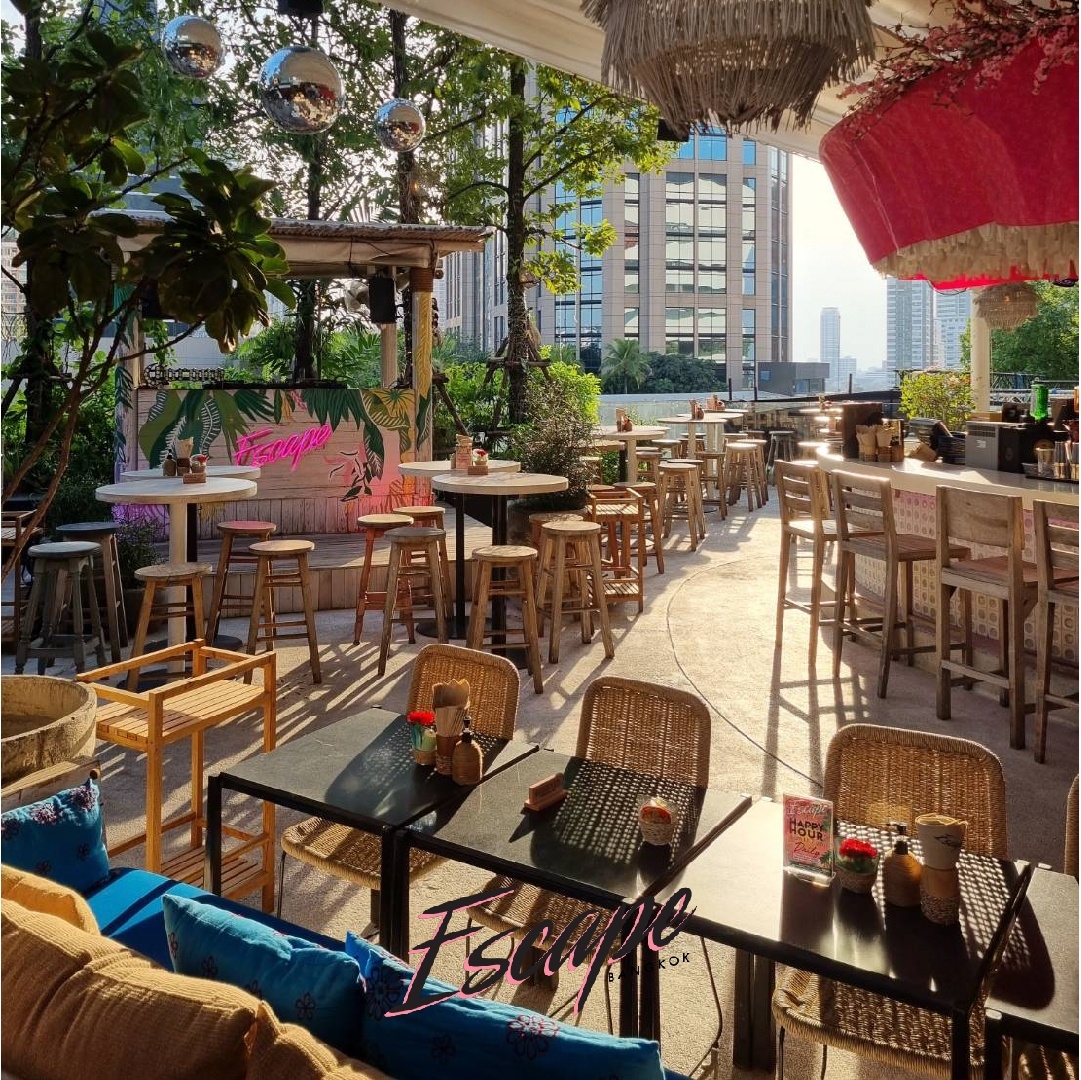 These designs come together to make visitors feel comfortable.
Escape's serene ambiance comes from its use of natural materials like wood and straw for furniture, as well as complementing plants and floral arrangements that add a touch of tranquility.
Overall, coming to Escape Bangkok feels like being transported to a delightful beach club on a tropical island.
But this one is right in the middle of the city.
Ojo Bangkok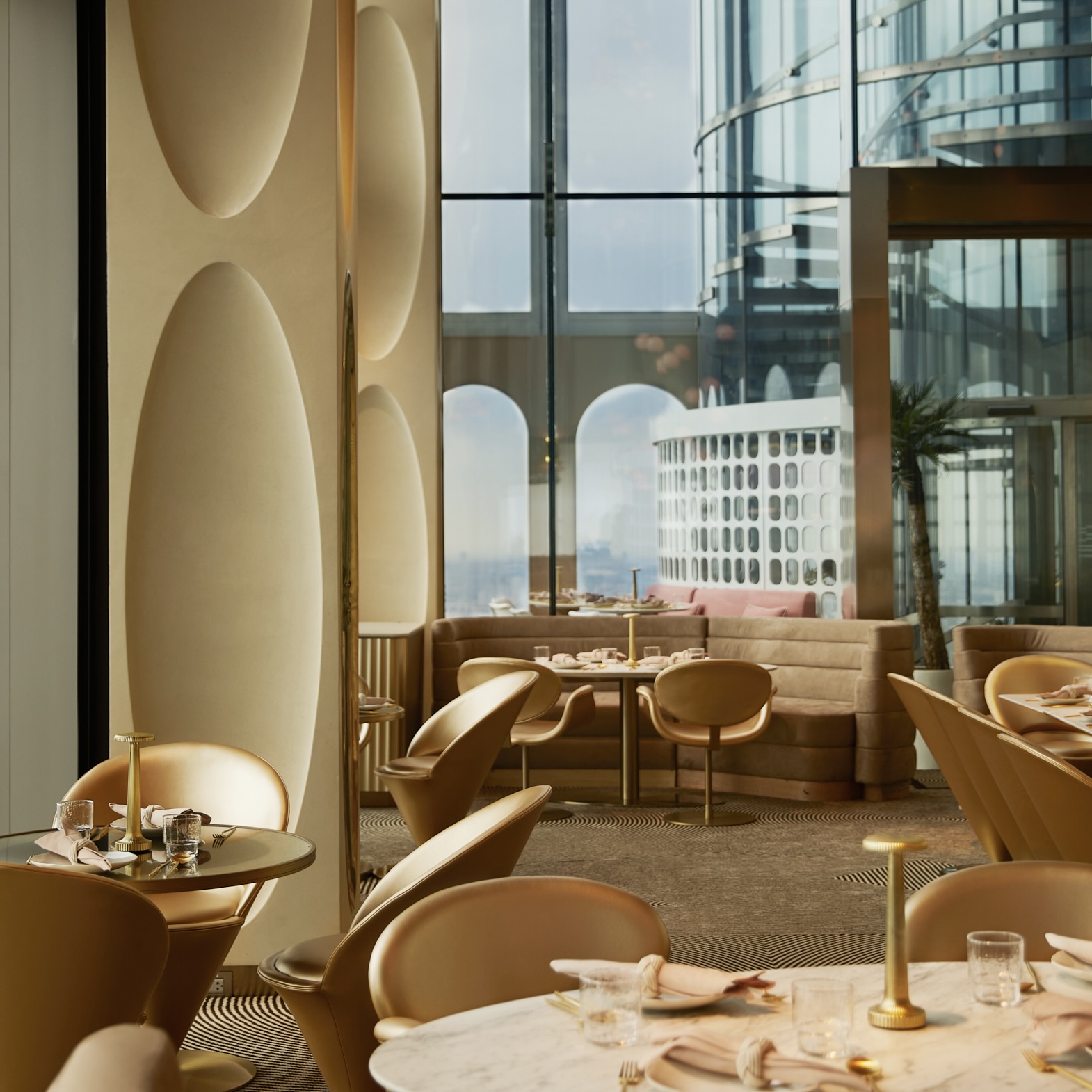 Located way up high above Bangkok on the 76th floor of The Standard Mahanakhon, Thailand's highest hotel, Ojo is a design and culinary marvel.
Ojo is a Mexican cuisine-focused restaurant with a glamorous and bright interior design.
It has a gold and pink color scheme across all its furniture and décor, which makes it super elegant.
Thanks to its high floor-to-ceiling windows, the restaurant also gets incredible natural light, which makes it a warm and inviting space to dine or drink.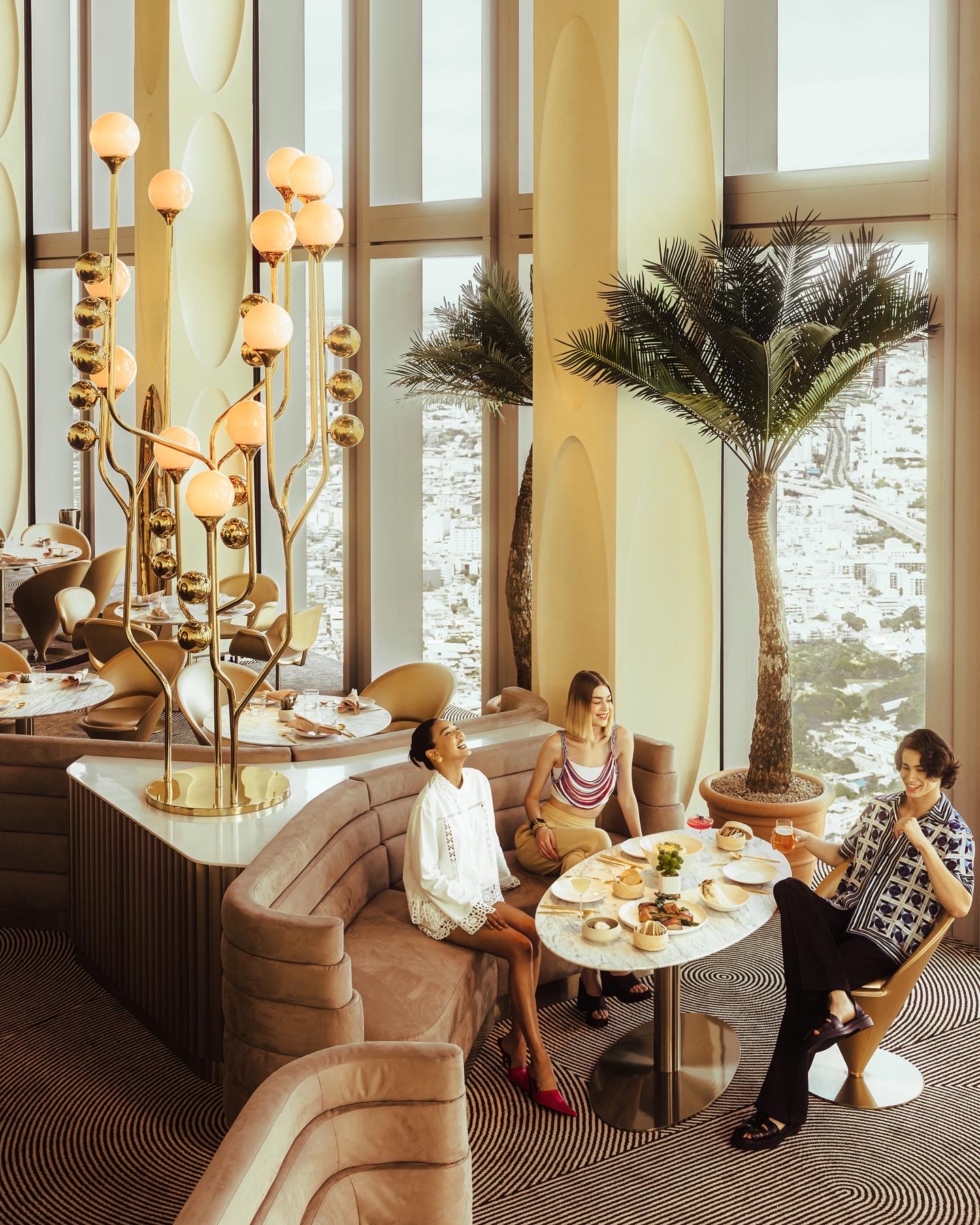 The restaurant also has an outdoor terrace that has gorgeous 360-degree panoramic views of the city over 300 meters high in the air.
The terrace décor consists of wooden and marble furniture, which are highlighted by shades of pink.
Add to that the incredible view of the city, and you have a truly unique background for a souvenir picture.
Ready To Try Bangkok's Most Unique Restaurant Design?
While all these restaurants offer unique experiences, Pastel Bangkok emerges as a perfect blend of style, elegance, and fun.
For an ultimate dining experience that combines refined Mediterranean food with a beautiful interior design, come on up to Pastel Bangkok.
FAQ
What is the most Instagrammable restaurant interior design in Bangkok?
Pastel Bangkok has the most Instagrammable restaurant interior design in Bangkok.