You don't have to go all the way to the beach to get some sun or to get wet.
Believe it or not, Bangkok is known for throwing the wildest pool parties at some of the most incredible venues.
Just imagine soaking in the pool under the sun, sipping cool drinks, and dancing to energetic beats while surrounded by gorgeous people at some of the hottest pool parties in Bangkok.
What are we waiting for?
Let's dive right in.
Come To Pastel After The Pool Party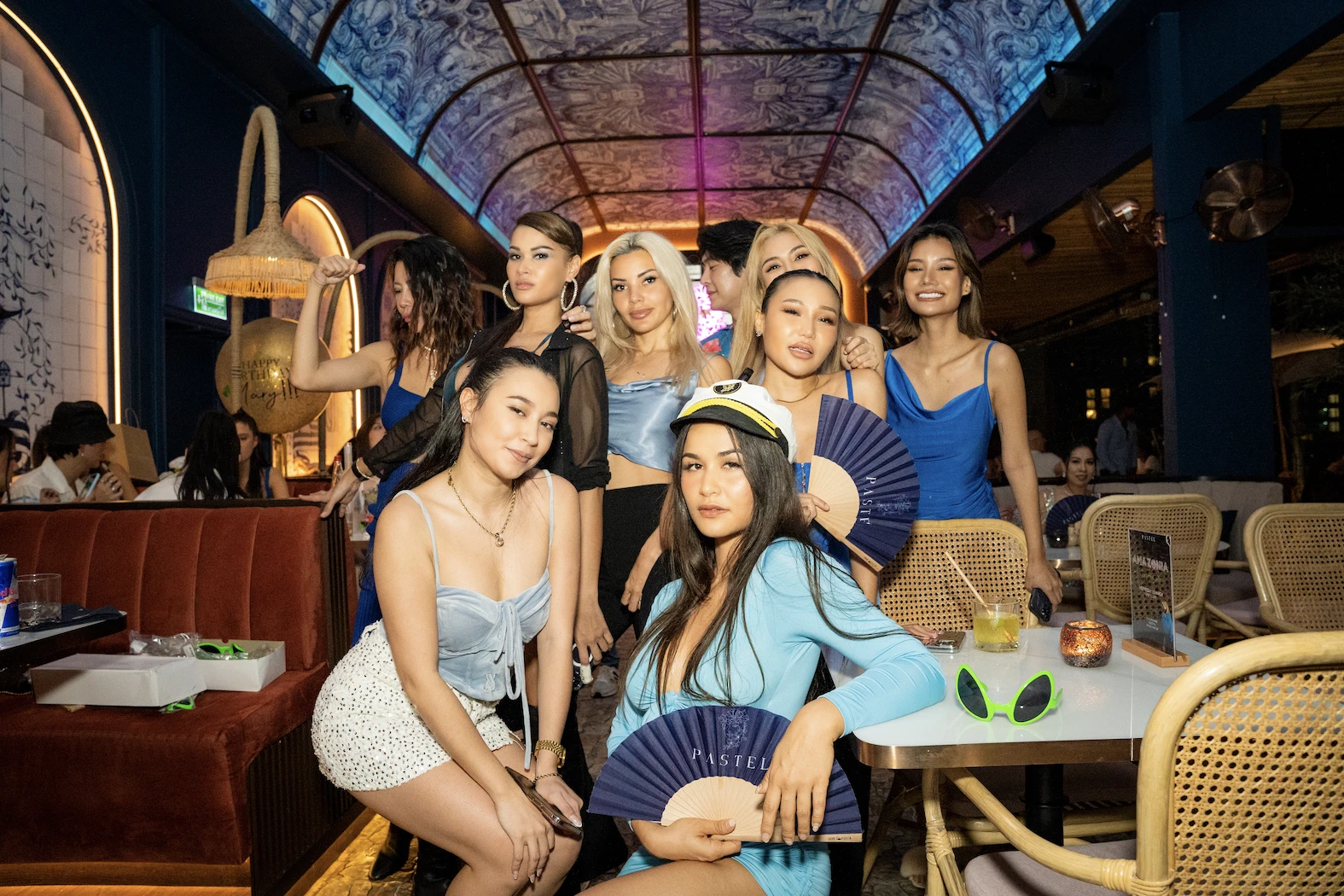 Pool parties tend to end early.
Usually around 9 or 10 PM.
So, once the pool party is over where can you continue the party?
Head on over to Pastel for the after-party.
Here are 3 reasons why you should come to visit us.
Firstly, you are going to need to refuel.
Pastel has a wonderful Mediterranean menu with juicy dishes that are sure to excite those taste buds.
We have a lot of delicious drinks too.
Everything from creative and yummy cocktails to wine, champagne and liquor bottles, you name it.
Lastly, we have amazing rooftop vibes that will complement your rooftop pool party experience.
We also host and organize a lot of private and themed parties, so just like at pool parties, the energy is high.
W Pool Party
The WET! Pool at the W Bangkok Hotel on Sathorn Road is an amazing pool party venue.
It hosts monthly pool parties called Beats by the Pool.
These parties are a great balance of cool music, great drinks, awesome service, and fantastic pool vibes.
Music is often hip-hop with Bangkok Invaders (Thailand's biggest DJ crew) playing at most of the events.
The pool itself is quite unique because of its abstract shape, view of the King Power Mahanakon Tower (Thailand's highest building), and beautiful LED lights.
The deck around the pool is also spacious with lots of daybeds, loungers, and standing tables with high chairs.
This makes the pool party experience both comfortable and more enjoyable.
Book a cabana for the ultimate VIP pool party experience.
Other than Beats by the Pool, W also hosts yearly Songkran pool parties.
And no matter which event you go to, W pool parties attract a diverse fun-loving young crowd.
Here you will get to meet and mingle with beautiful Thais, expats, and even tourists.
So Pool Party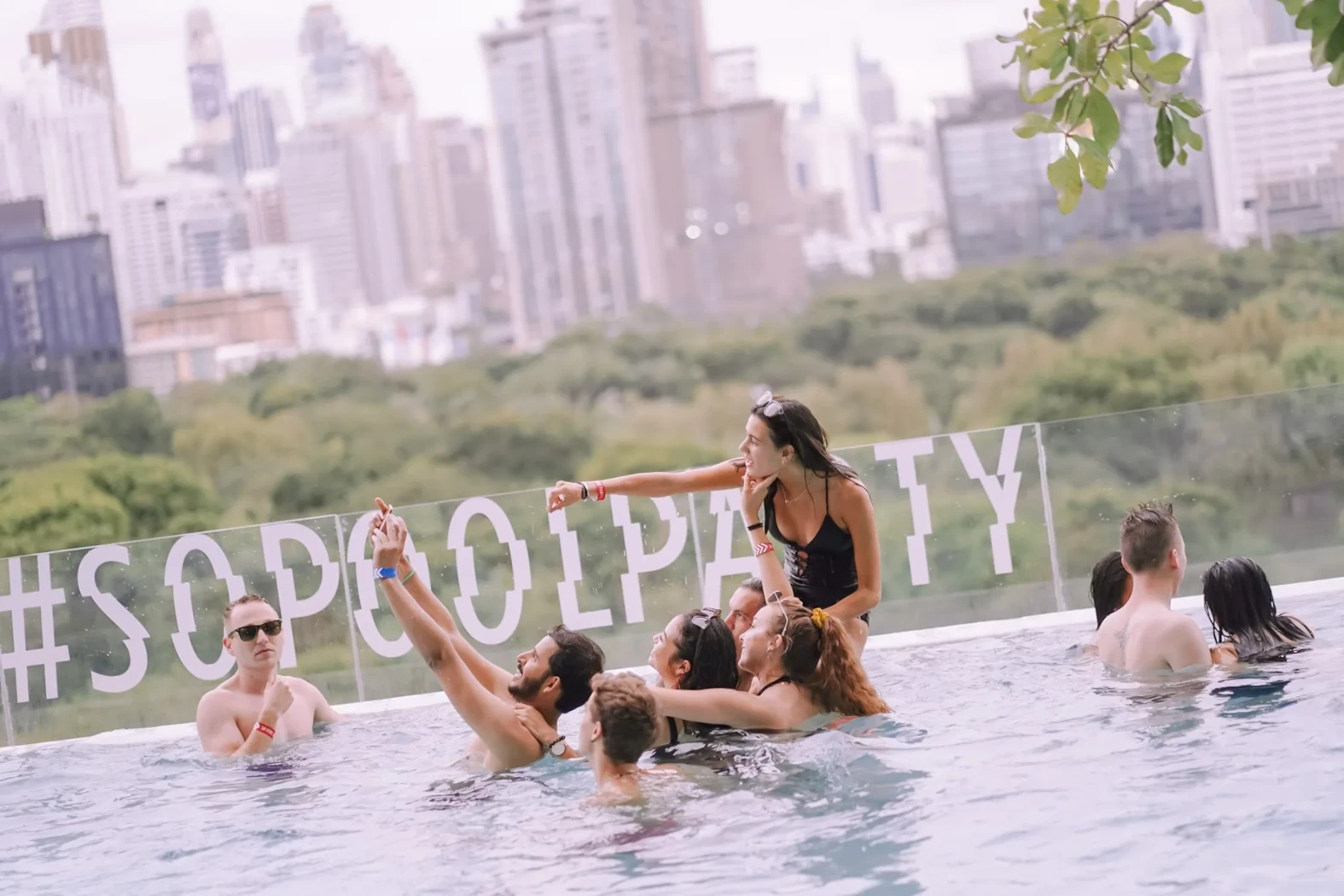 So Pool Party is the most happening pool party event in Bangkok.
Organized every last Saturday of the month at the SO/ Bangkok Hotel in Sathorn, this is the place to see and be seen by all the cool kids in town.
Models and influencers to hipster music lovers, all love to come here for its sophisticated party vibes.
SO/ has got a gorgeous infinity pool that overlooks the beautiful and lush Lumpini Park.
A view you won't find at any other rooftop bar or pool party.
So Pool Party also brings talented DJs who play sexy deep house and techno tunes to start the day before going harder and wilder as the sun goes down.
Another thing that makes the So Pool Party so great is that it has two areas.
One with the infinity pool and house music where you can see Lumpini Park.
And a second one with grass and hip-hop music overseeing Sathorn Road.
The second spot is the perfect place to chill and stay dry while still being near the party.
So Pool Party is also known to be one of the biggest gay pool parties in Thailand and is very LGBQT+ friendly.
Westin Pool Party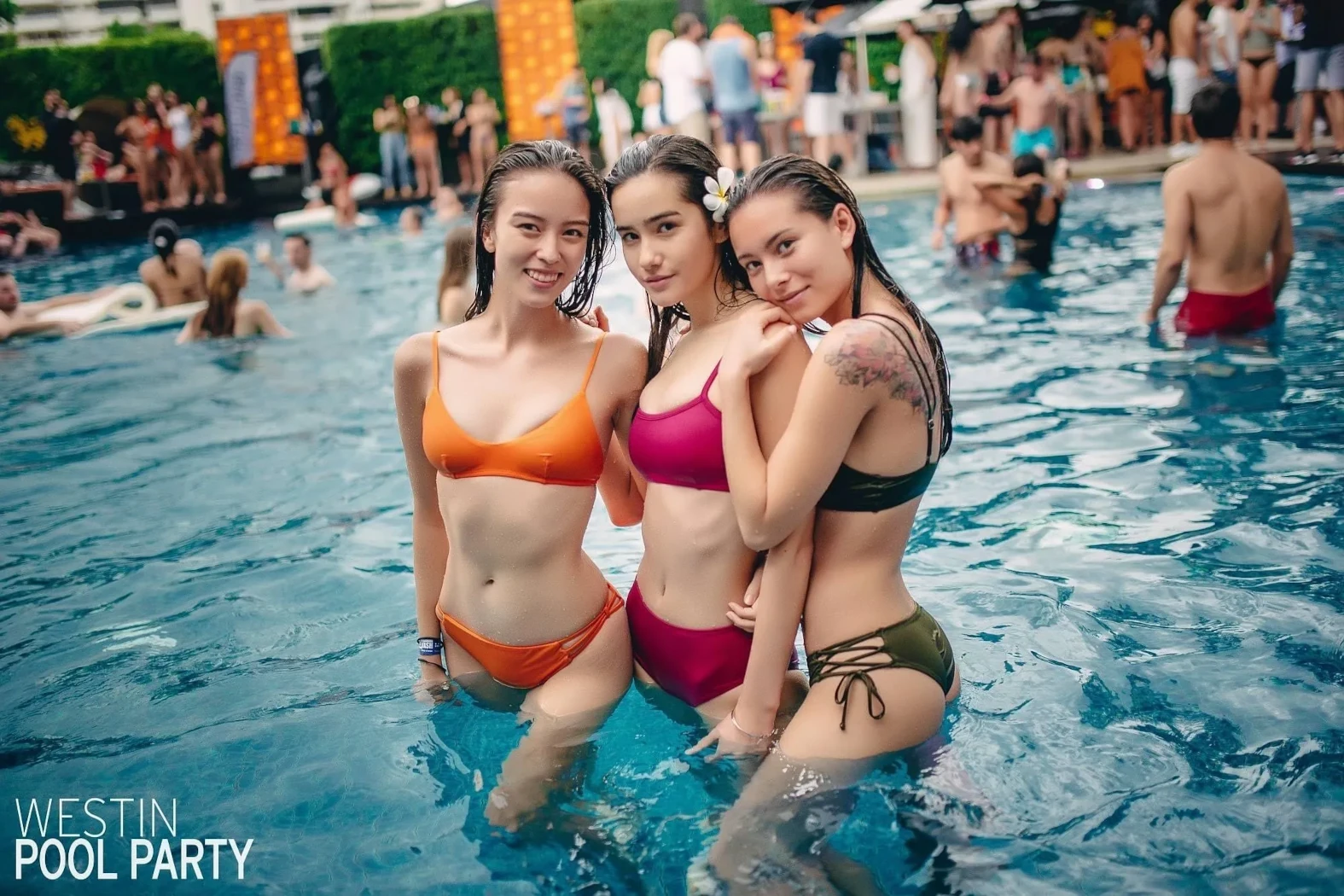 If you are looking for the wildest and one of the longest-standing pool party destinations in Bangkok, then it has to be the Westin Pool Party.
Westin pool party is held every third week of the month on a Saturday at Westin Bangkok Hotel.
The pool party is a joint collaboration between Westin and Mad Stash, which is one of Bangkok's leading events agencies.
For years it has been a popular choice for a diverse group of crowds.
You have loyal music lovers who include Thais and expats.
Gorgeous models also like to attend Westin pool parties.
And of course, curious international tourists love to get their feet wet here as well.
It's not rare to see a group of guys celebrating their bachelor party there too.
The pool party is full of non-stop music that is mostly melodic techno and deep house but they also do sprinkles of afro house and top chart mixes.
Epic Pool Party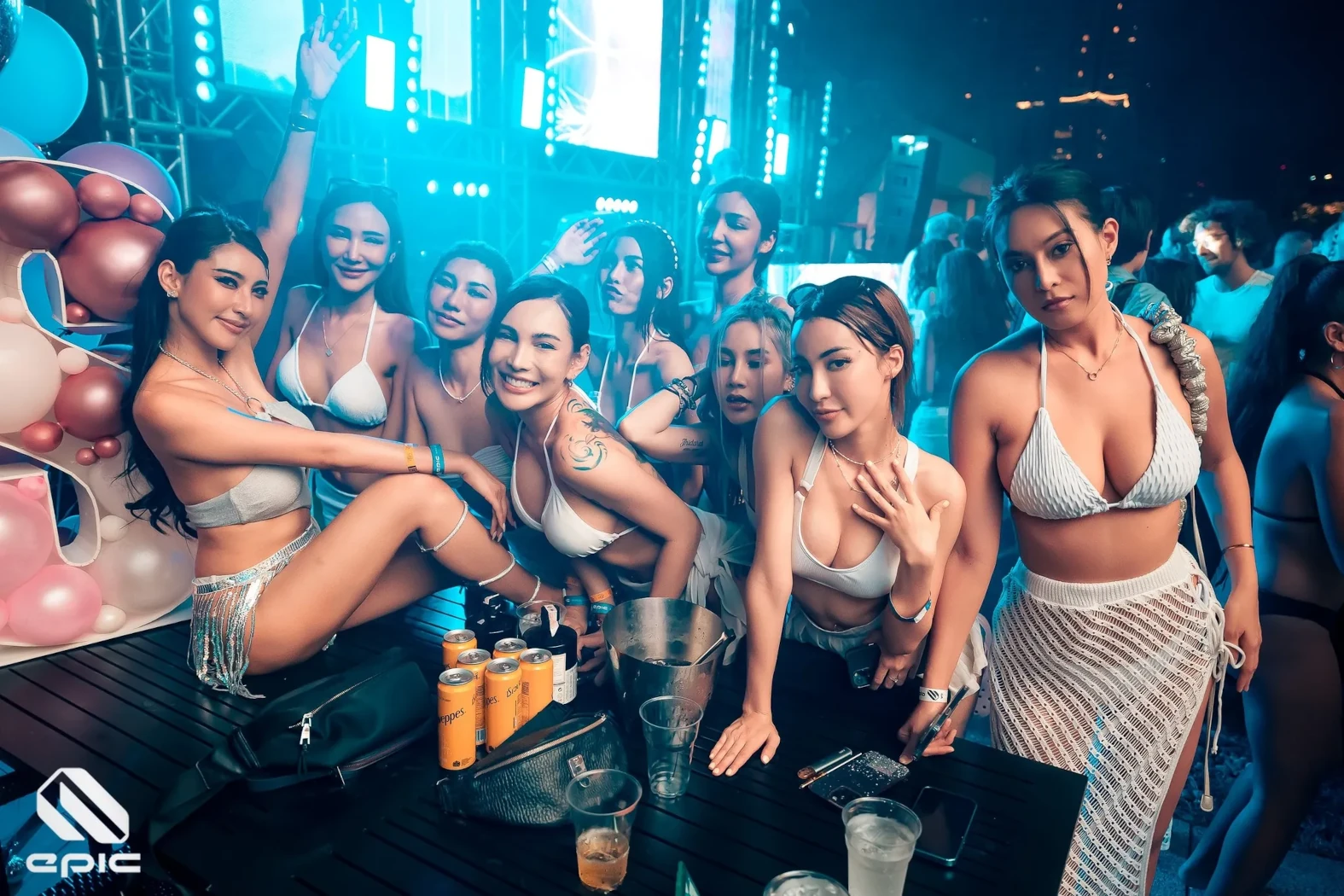 Epic Pool Party is hosted by one of the leading electronic music event organizers in Bangkok, EPIC Entertainment.
so there is no doubt that this is one of the best pool parties in town.
This is where all the beautiful girls and handsome men go to see and be seen.
Unlike most other pool parties though, Epic caters more to locals and Thai models.
And the vibes here are great.
Everyone loves to have a good time partying and dancing to excellent deep & tech-house music, played by some of the best international and Thai DJs.
Some popular names who played there include DJ Riviere and Foamberry from Thailand, BURNR from the Netherlands, and Pelican from Germany.
EPIC is usually held either at the Pullman King Power or the Amari Watergate but is also sometimes hosted at surprise new locations.
Make sure you come early for the open bar.
Ambar Pool Party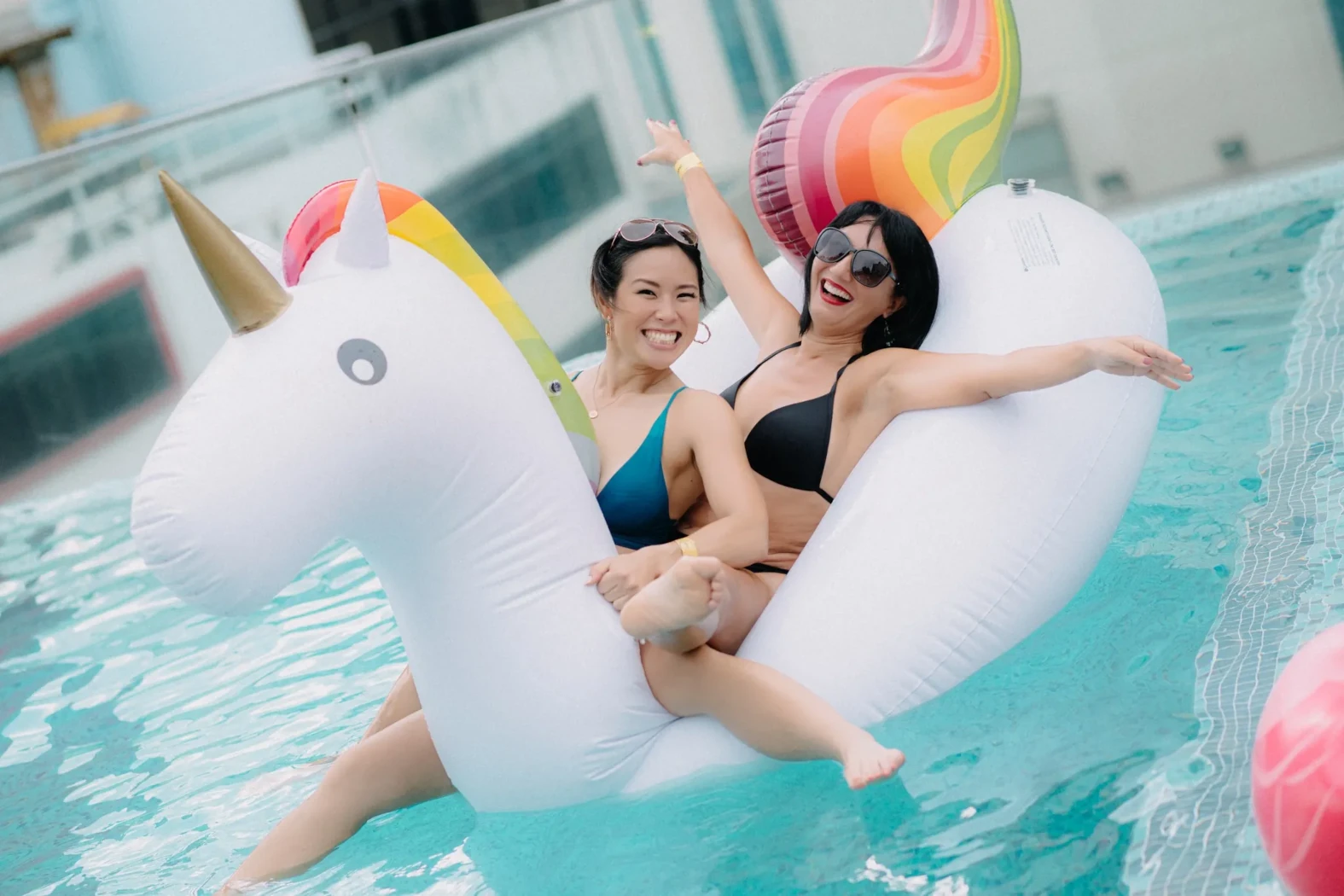 When it comes to good times, great music, and unforgettable partying without breaking the bank, Ambar is the place to be.
Ambar Pool Party happens every first Saturday of the month at Ambar rooftop bar, located on the 8th floor of Four Points by Sheraton.
This rooftop pool party has a casual atmosphere where cool, party-loving Thais and expats love to spend time with their friends.
The pool party hosts international and local DJs who play everything from Afro beats and hip-hop to deep house and even EDM.
Every DJ that plays at Ambar has something different to bring to the table.
But there is always a great energy and vibe in the air.
Ambar also does an amazing Songkran pool party where the entire rooftop bar and pool get packed.
If you want to be around fun people, this is the pool party to attend.
FAQ
What is the most popular pool party in Bangkok?
The most popular pool party in Bangkok is the Westin Pool Party.
What is the price of a pool party in Bangkok?
The price of a pool party in Bangkok is between 400 and 800 THB for the entrance and between 6,000 and up to 50,000+ THB for VIP tables.
Is there any rooftop pool party in Bangkok?
Yes, there are rooftop pool parties in Bangkok. At Ambar for example.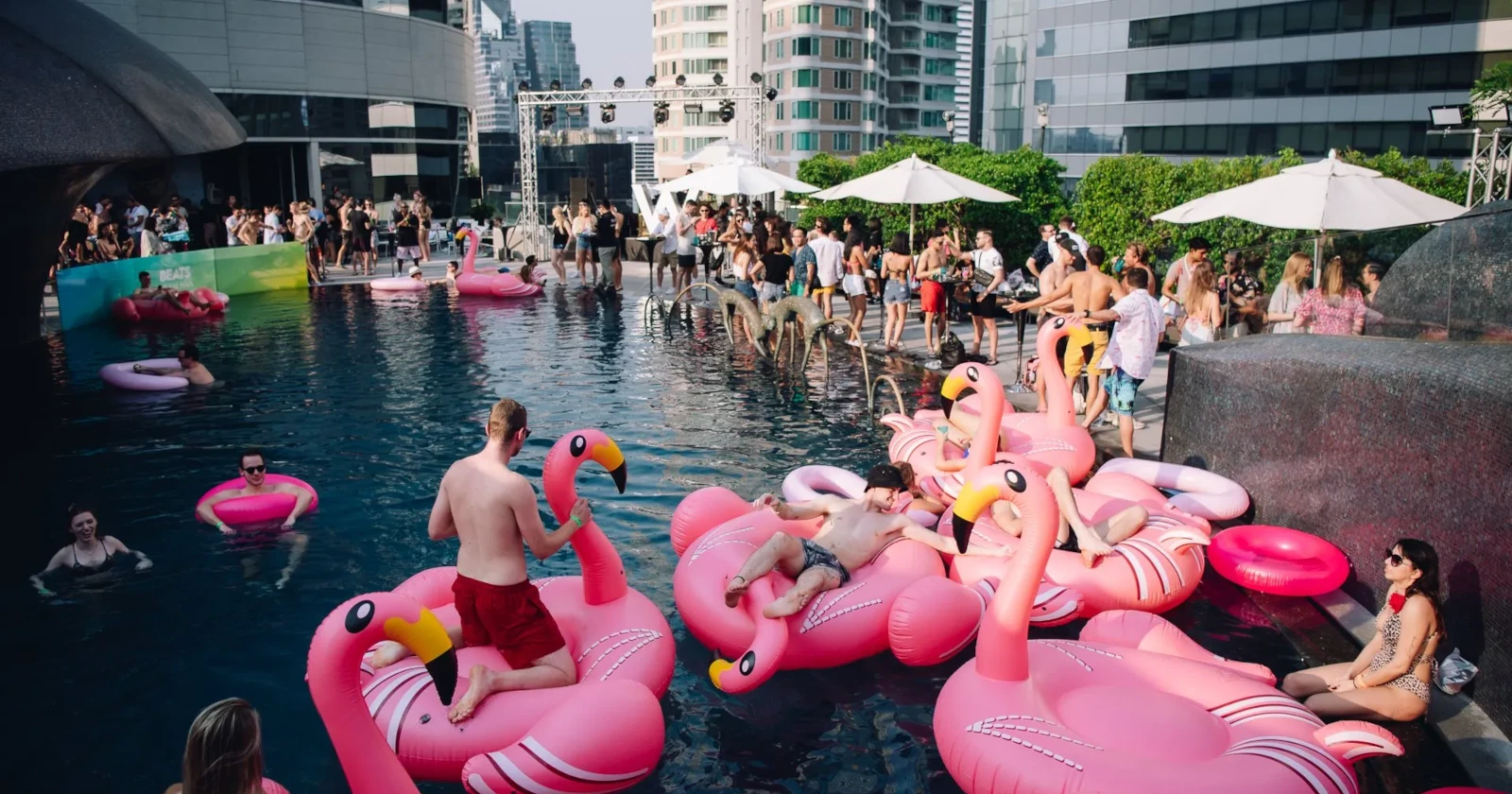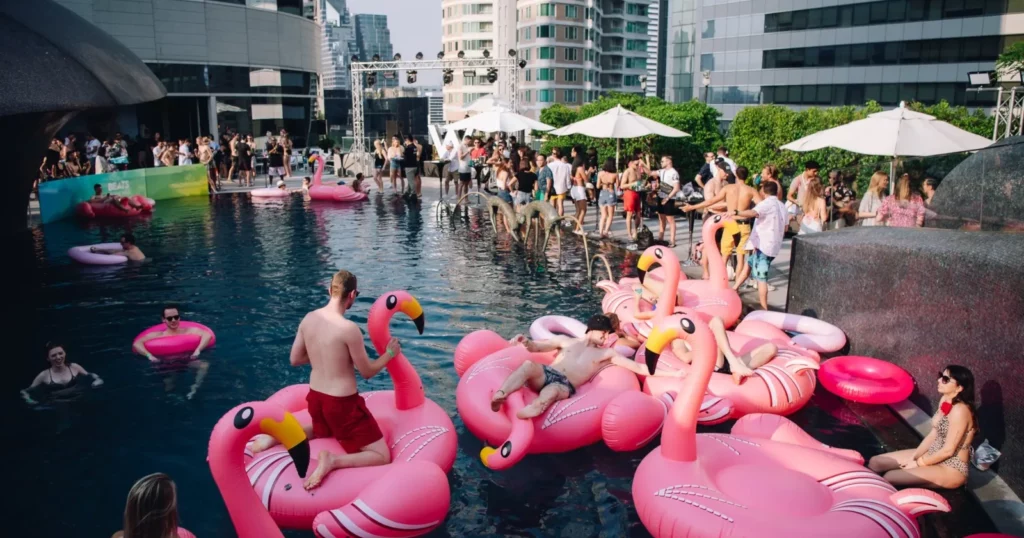 Let Pastel Team Guide You Through Bangkok
Our team has selected for you the best of Bangkok nightlife.
We also look forward to welcoming you at Pastel, Bangkok's best rooftop bar and restaurant.