Sukhumvit is by far one of the most popular and best areas in Bangkok to stay.
It is truly the heart of the city with a massive variety of things to do such as shopping at extravagant malls, clubbing and nightlife, restaurants, bars, and other tourist attractions.
There is also an incredible number of accommodation choices available in Sukhumvit that vary from 5-star luxury hotels to more budget-friendly options.
If you are planning a visit to Bangkok for a vacation or a work trip and need a nice place to stay in while being close to the city's best attractions, consider these 5 best hotels in Sukhumvit.
Aira Hotel Sukhumvit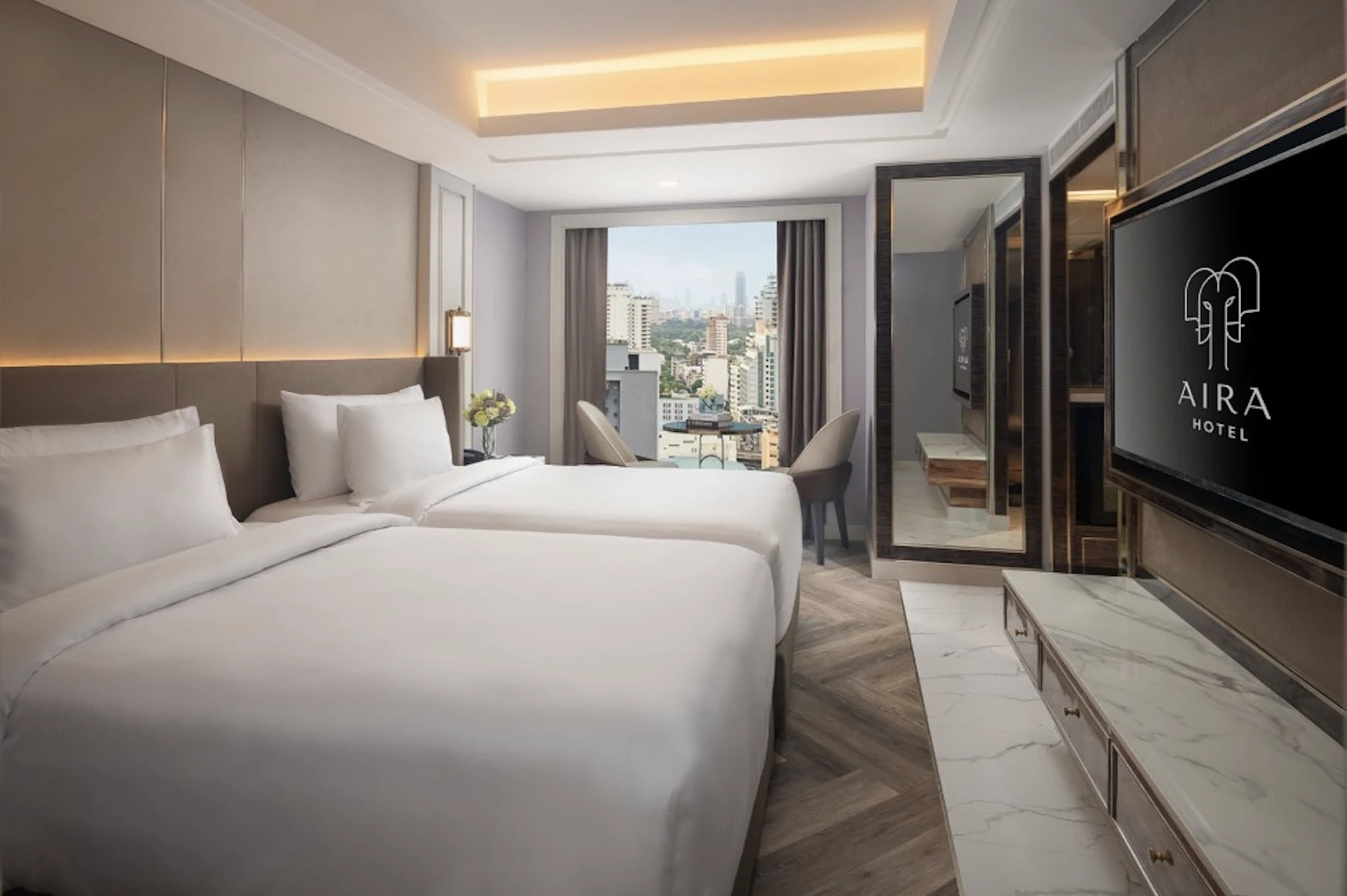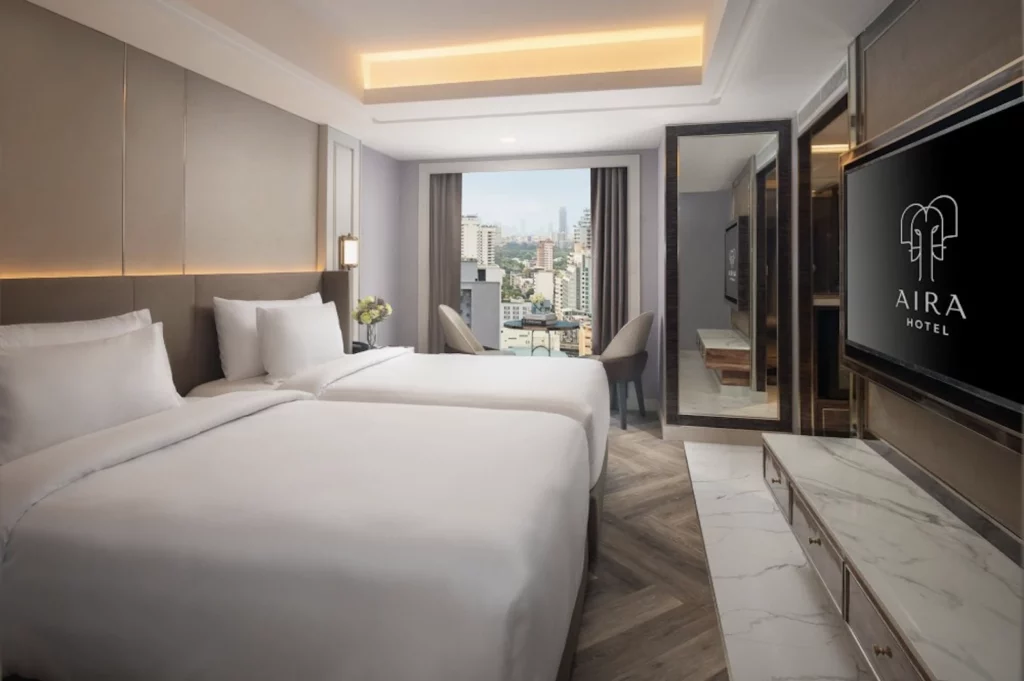 Aira Hotel is one of Bangkok's newest 4-star hotels that is quickly on its way to becoming the best in Sukhumvit.
Being in the heart of all the fun that is Sukhumvit Soi 11, the hotel creates memories through exciting yet elegant and peaceful experiences.
The hotel has amazing dining options, top-tier customer services, modern facilities, and of course, exceptionally cozy rooms with ultra-soft bedding.
Aira Hotel features a beautiful 92 sqm salt-water outdoor swimming pool as well as a fully-equipped fitness center.
It even has a partnership with Divana Nurture Spa which offers in-house guests special promotions.
Finally, Aira Hotel is home to Pastel, one of Bangkok's best rooftop bars and restaurants.
Being close to public transport and attractions, it is a perfect relaxing place to stay for families, couples, and solo travelers who want to explore the city.
Grand President Bangkok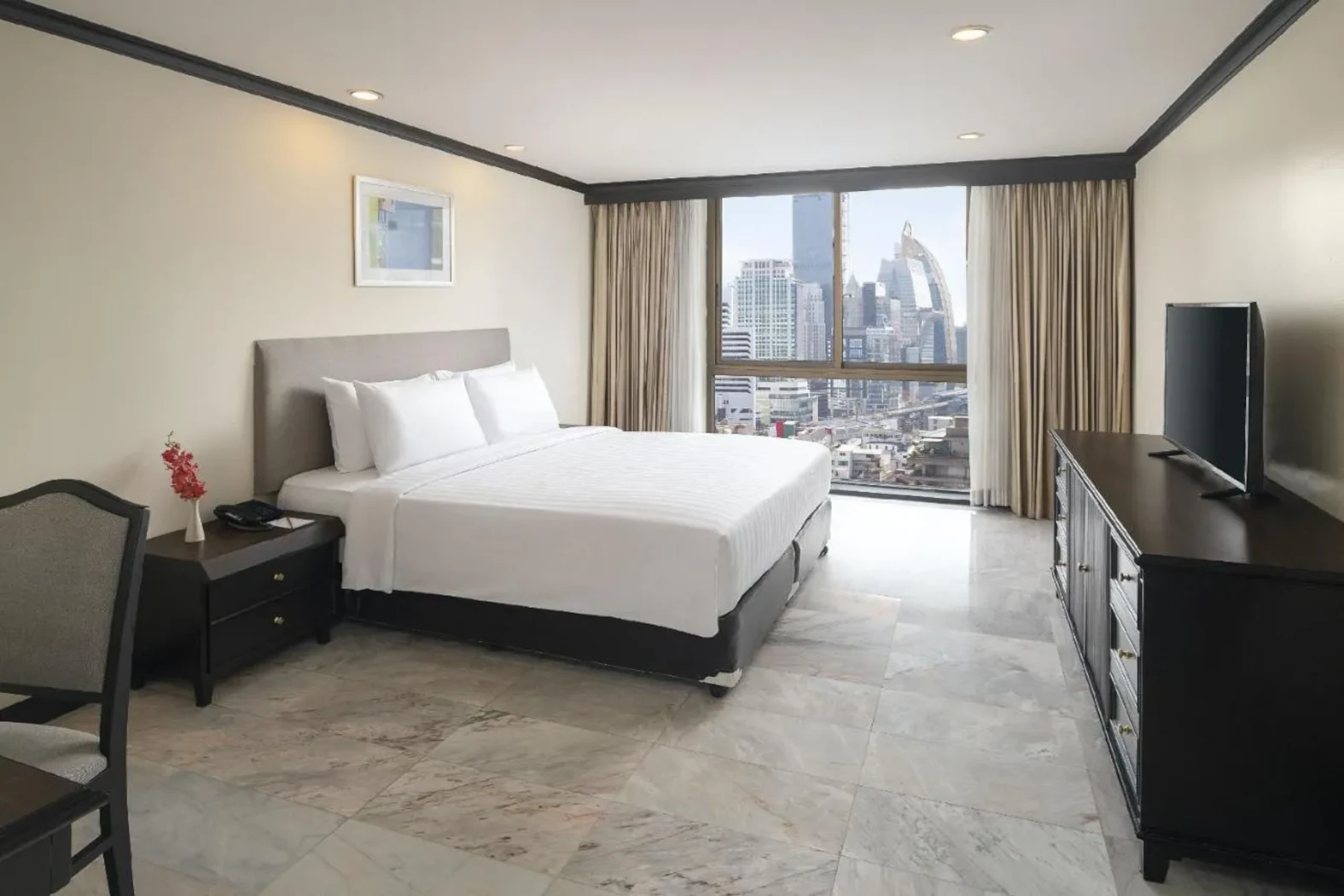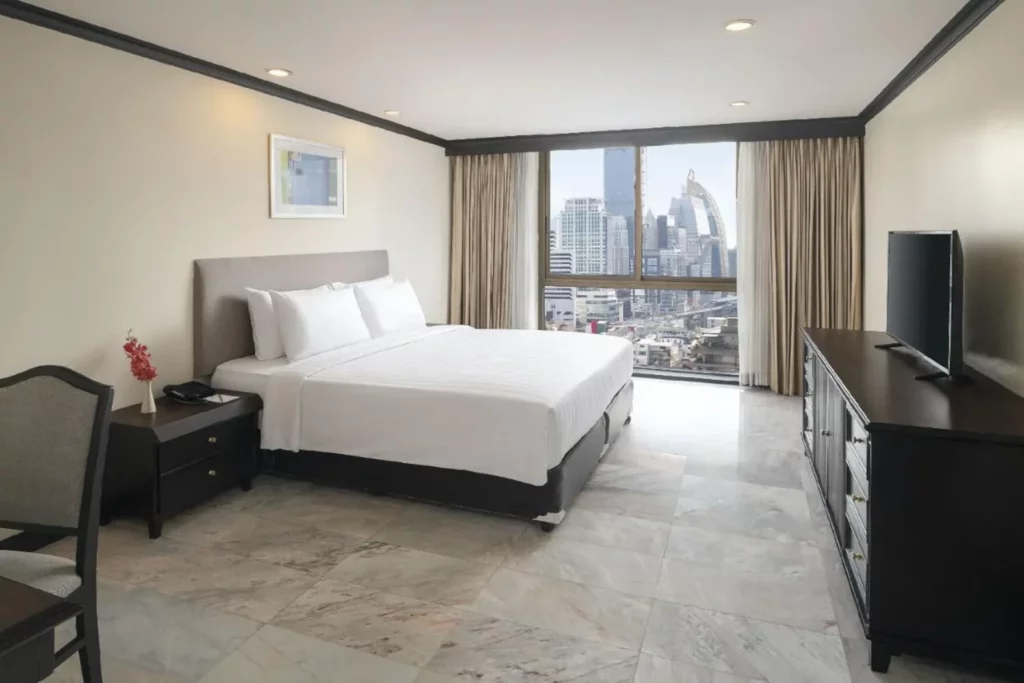 Also located in Sukhumvit soi 11, the Grand President Bangkok is a 4-star hotel that offers 121 spacious and elegantly designed rooms ranging from studios to spacious 1-bedroom suites.
They provide complete comfort and are equipped with all the amenities to make you feel right at home.
The hotel also has the necessary facilities such as a fitness center, meeting rooms, swimming, sauna, and dining options.
They serve Thai, Western, and even Indian cuisines that you can have at the restaurant or even in the privacy of your room.
Whether you are a business traveler or coming with a family, Grand President is a good choice, offering exclusive promotions such as staycation savings and monthly stays.
Hyatt Regency Bangkok Sukhumvit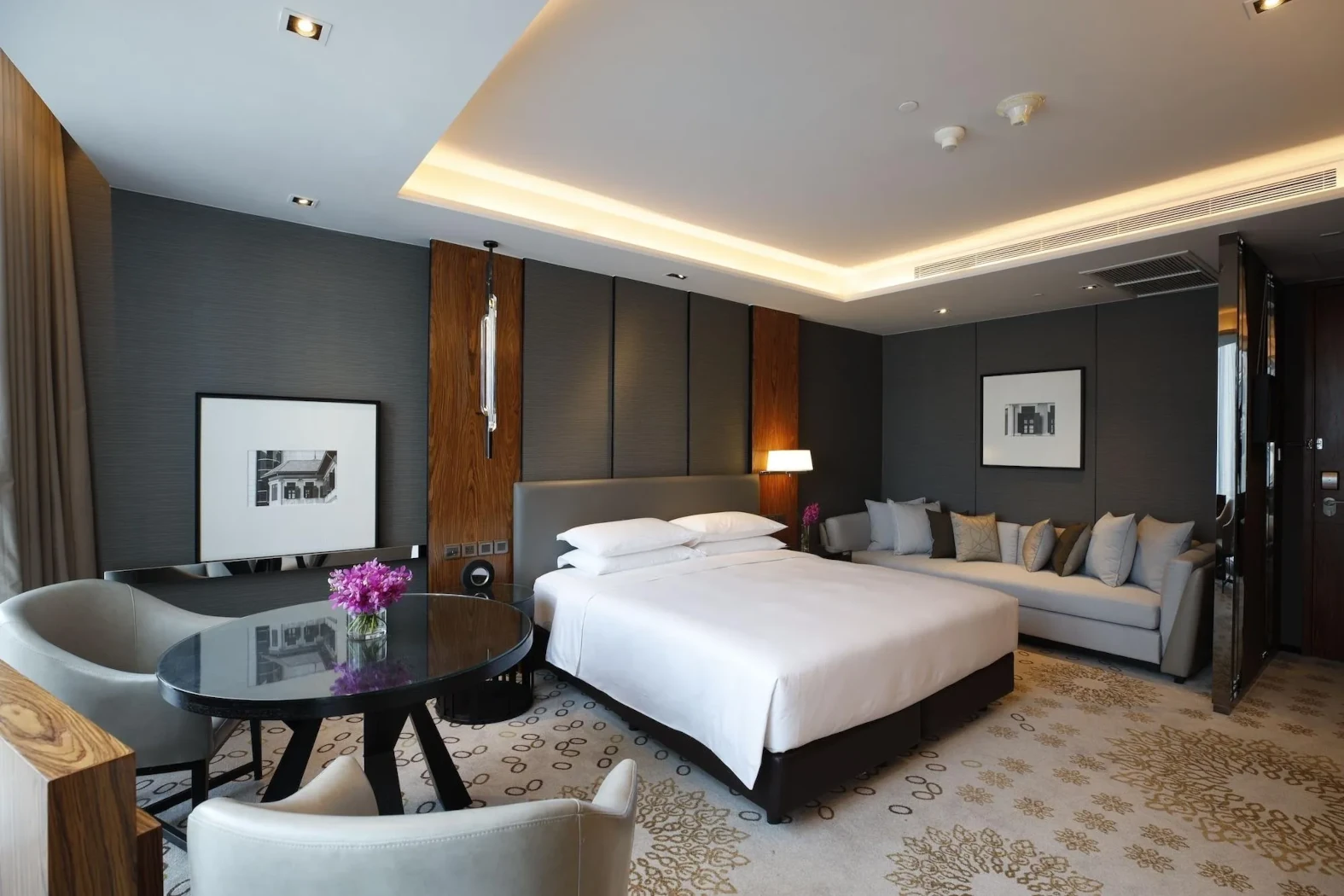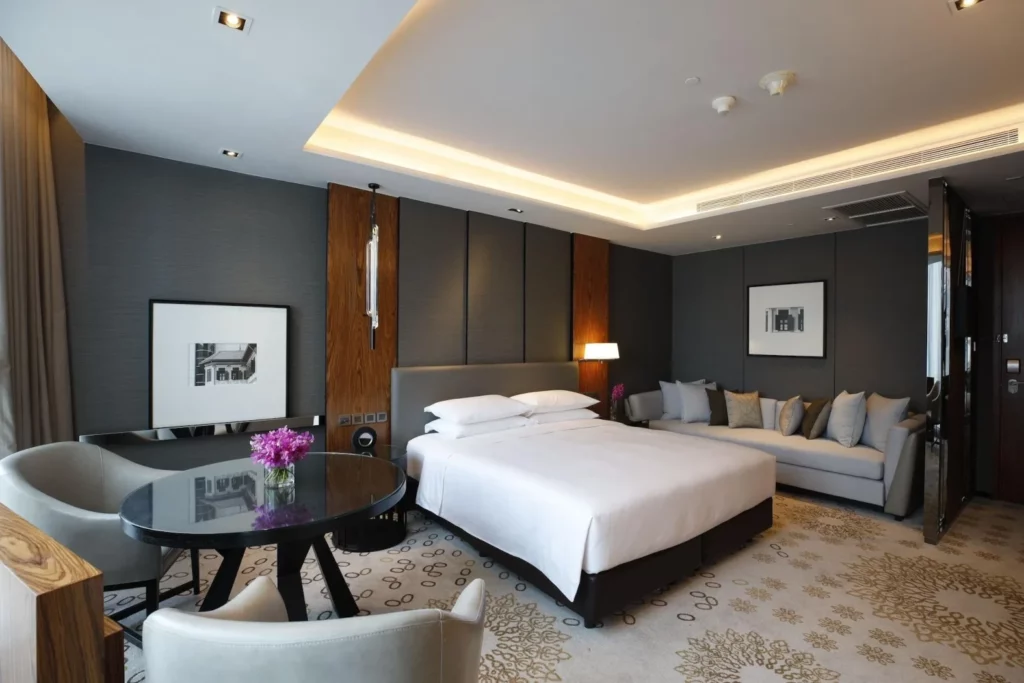 Thanks to its prime location, modern facilities, luxury amenities, incredibly comfortable rooms, and contemporary design, Hyatt Regency is easily one of the best hotels in Bangkok.
It is located in the heart of Sukhumvit and is close to both the MRT and BTS stations, making it highly accessible from anywhere in the city.
The hotel has 273 spacious rooms and massive suites with luxurious interiors and décor.
If you book the premium Regency Deluxe Suite, you get access to the Regency Club Lounge which has free-flow drinks and snacks.
Hyatt even has a loyalty program that allows you to collect points to enjoy exclusive benefits and upgrades.
The hotel is also home to a stunning rooftop bar and restaurant called Spectrum.
When it comes to facilities, Hyatt Regency is really one of the best 5-star hotels in Bangkok.
It has superb options such as a lounge room, 24-hour fitness center, event halls, and a gorgeous outdoor infinity swimming pool that hosts pool parties a few times a year.
Sofitel Bangkok Sukhumvit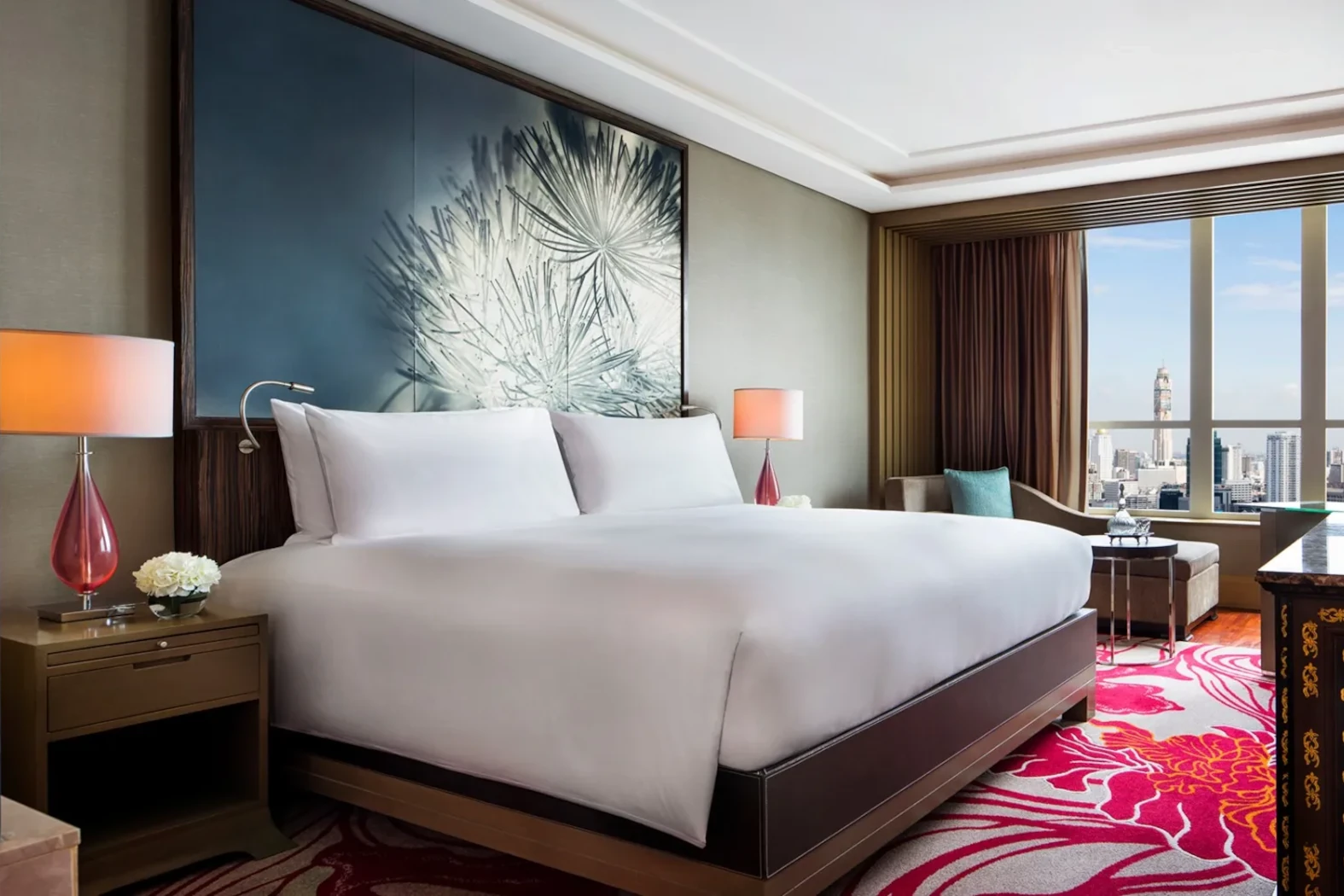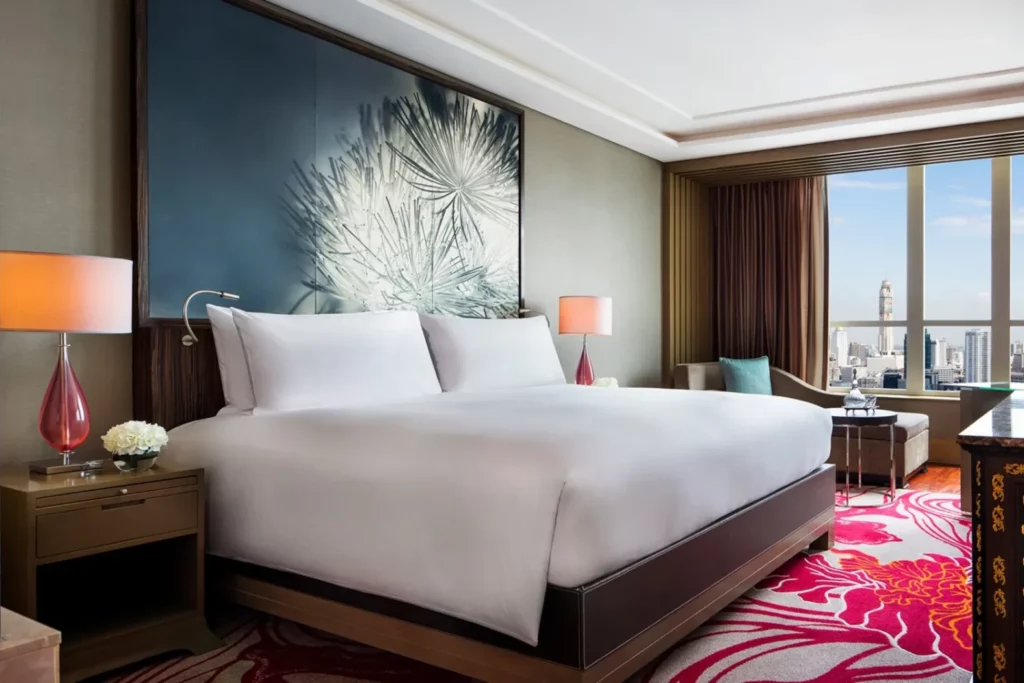 Considered one of the best luxury hotels in Sukhumvit, Sofitel is known for its amazing hospitality and customer experience.
There are a lot of reasons to choose Sofitel such as its prime location, luxurious rooms, and exceptional facilities.
Sofitel is close to multiple public transports and Bangkok's vibrant shopping and nightlife districts.
It's easy to get to many tourist attractions around the city as well.
When tired, the hotel has 6 types of highly comfortable and spacious rooms and 3 types of suites that can easily accommodate up to 4 people.
The rooms also have beautiful panoramic views of the city.
If you are in the mood for drinks and food, Sofitel has 3 restaurants including a Belgian rooftop restaurant and bar.
For some relaxation, Sofitel has amazing modern facilities such as a gorgeous outdoor 23-meter swimming pool, a pool bar, a 24-hour fitness center, a steam room, a spa, a library, and even a salon.
Fraser Suites Sukhumvit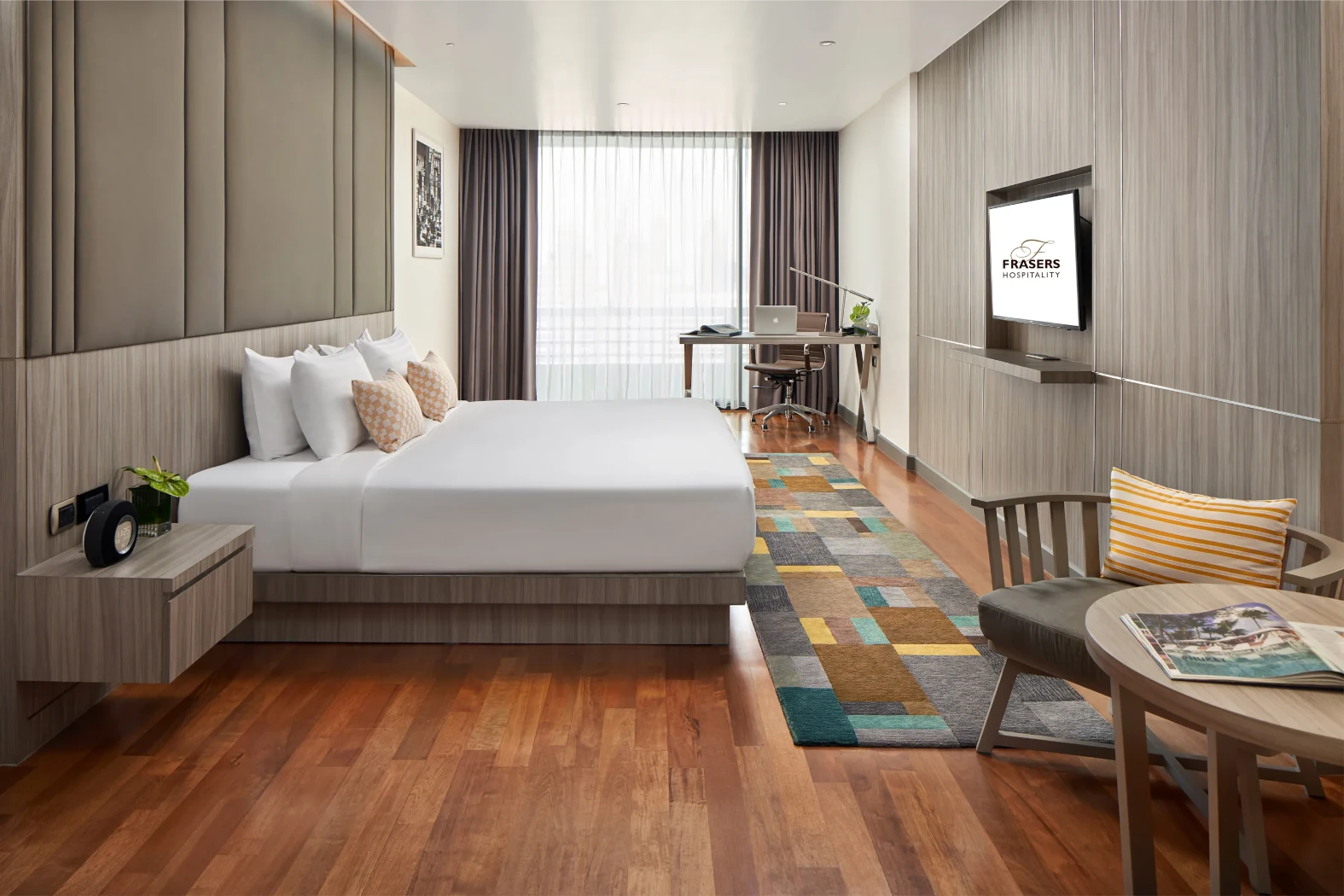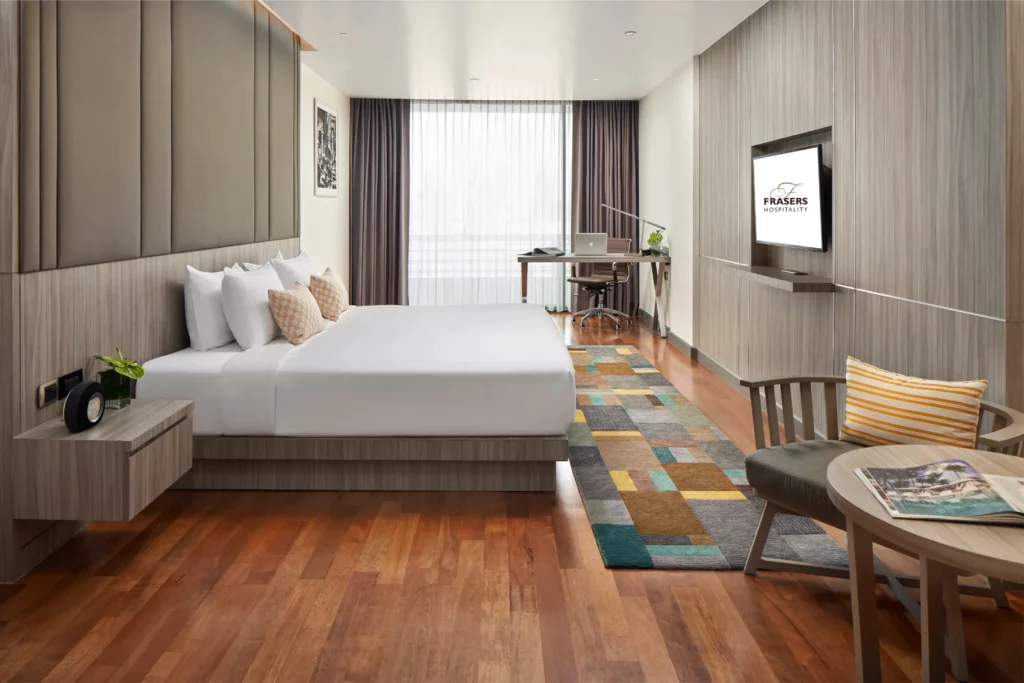 Fraser Suites is a 4-star hotel, located deep within Sukhumvit Soi 11 and close to all the popular shopping, dining, and nightlife spots.
The hotel features spacious and highly comfortable rooms, perfect for rest and rejuvenation.
It has excellent amenities and facilities such as a fitness center, pool, sauna, and steam room to keep you healthy and relaxed.
Fraser Suites is also home to Charcoal and Above Eleven, which are Bangkok's top Indian restaurants and rooftop bars, respectively.
To top it all, the hospitality at Fraser Suites is excellent.
The staff really know how to welcome and take care of their guests.
Overall, Fraser Suites Sukhumvit is a great place to relax and a perfect choice for travelers looking for a luxurious stay in Bangkok's vibrant Sukhumvit district.
Sheraton Grande Sukhumvit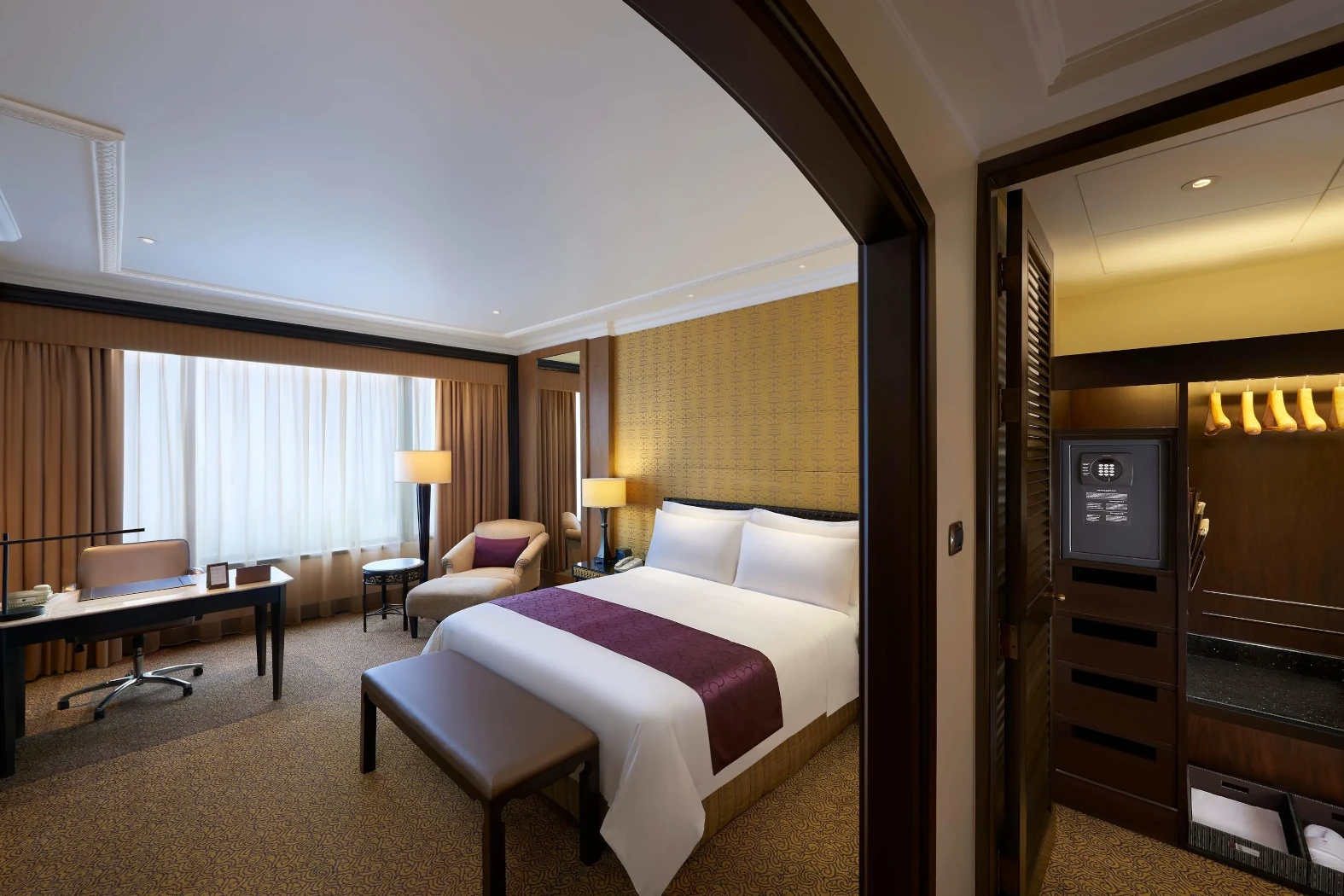 The Sheraton Grande Sukhumvit is a well-known 5 star luxury hotel in the heart of Bangkok.
It is ideally located next to the Asok BTS Skytrain station.
Which means it's super convenient to be used as a base to explore the city.
The hotel itself is also very elegant.
It features a shiny lobby, multiple fine-dining restaurants, and a luxurious spa.
There is even a fitness room but what you really can't miss is the swimming pool area that resembles a tropical oasis.
It will make you forget you are in Bangkok.
Their rooms and suites are insanely cozy and spacious.
You are truly spoiled with plenty of options as they have 15 different styles of rooms.
Each room seamlessly blends modern design with traditional Thai elements and decor.
Whether you're here with family or for a luxurious solo trip, the Sheraton Grande is undoubtedly an amazing place to stay.
Carlton Hotel Bangkok Sukhumvit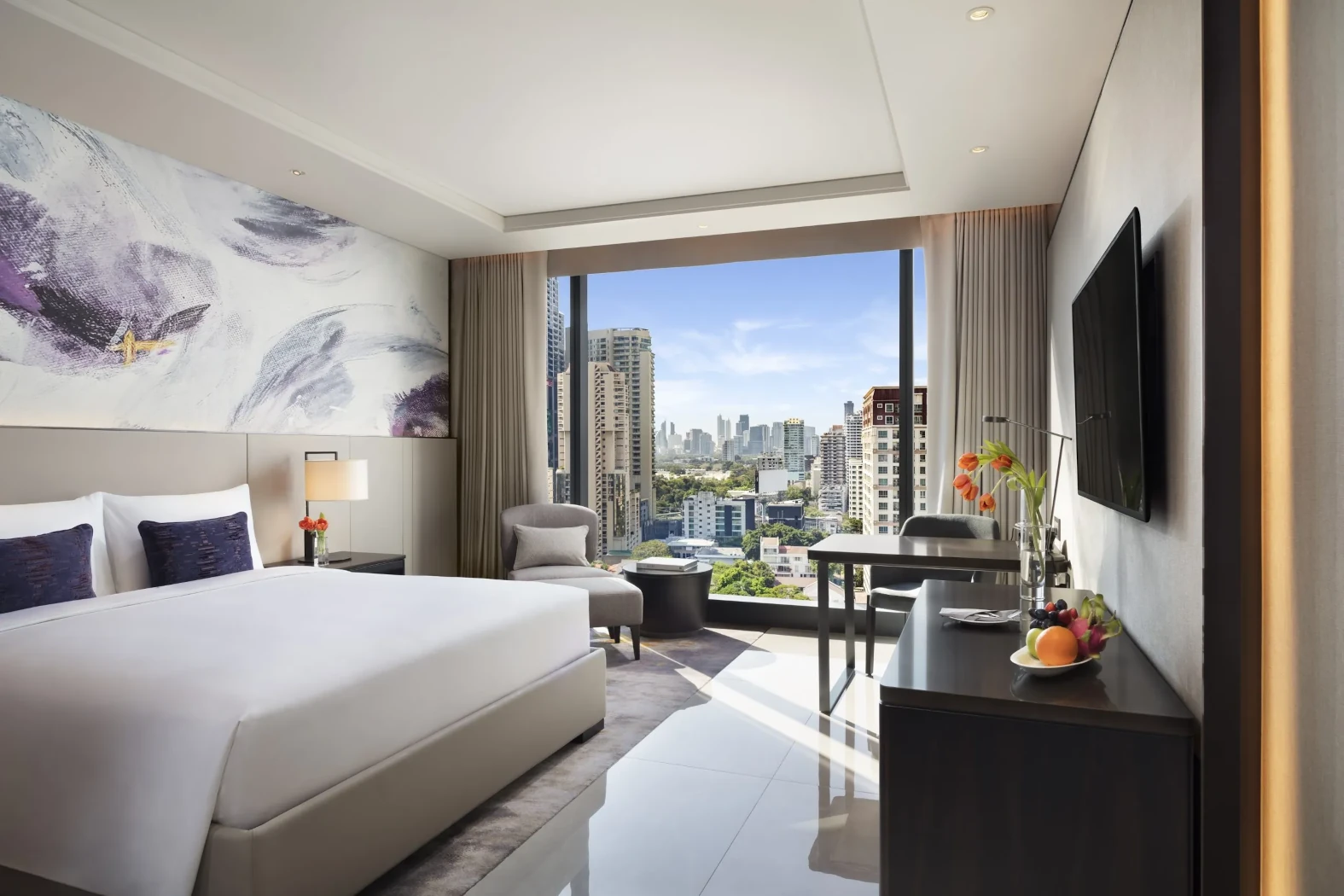 The Carlton Hotel is one of the finest hotels in Bangkok, all about comfort and luxury.
Located just minutes from Asok BTS Skytrain, the hotel features contemporary rooms and suites that are spacious and very cozy.
Whether you choose a deluxe room, a Carlton club room or an entertainment suite, they're all so comfortable and well equipped you may find it hard to leave your room.
When you do, there are plenty of awesome facilities to explore inside the hotel.
You can get fit at the fully-equipped fitness studio or chill out by the gorgeous outdoor pool.
There is also a spa, a sauna room, and a lounge.
Apart from being an amazing choice for your stay in Bangkok, Carlton is really known for its first-class dining options.
It has five outlets where you can eat and drink in style.
There is a Cantonese restaurant, an international cuisine restaurant, an espresso bar, a juice bar, and a stunning rooftop bar, which is the star attraction of the hotel.
137 Pillars Suites & Residences Bangkok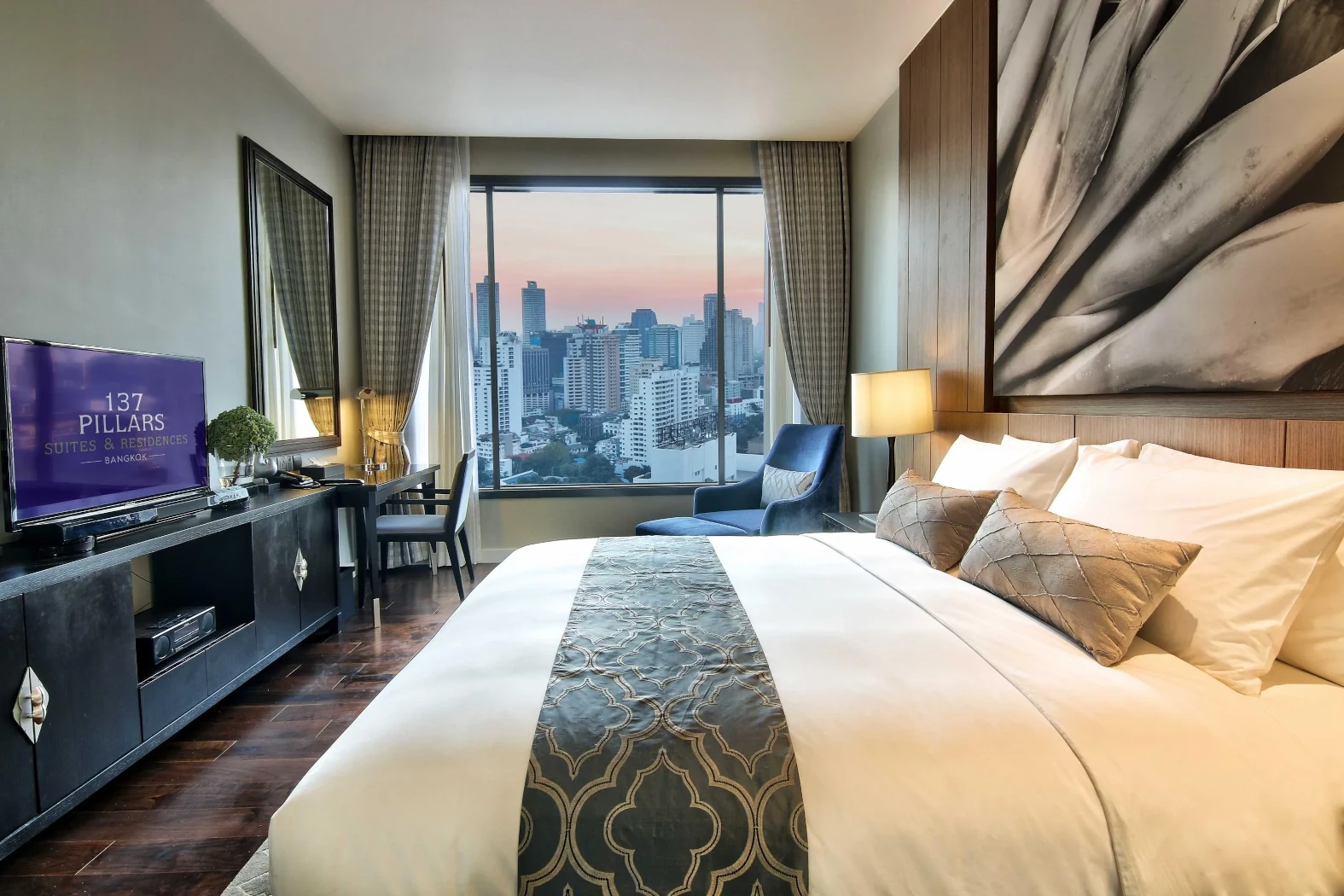 Experience unparalleled luxury at 137 Pillars Suites and Residences.
This 5-star hotel is renowned for its breathtaking rooms and suites.
Each one of them is named after famous Thai destinations that are an iconic part of Thai royal history.
The rooms feel like a slice of heaven, offering unbeatable comfort and style.
You'll find everything from plush bedding to state-of-the-art amenities that make your stay unforgettable.
With such an incredible interior it's easy to understand why the hotel is a popular choice amongst celebrities and influencers from across the world.
They also have a huge variety of dining options covering a wide range of cuisines for all kinds of occasions.
From private fine dining and casual eateries to gorgeous rooftop terraces, 137 Pillars has it all.
But if you want to be truly amazed and need that one reason to stay at this hotel, it has to be their insanely impressive infinity rooftop swimming pools that offer gorgeous 360 degree panoramic views of Bangkok.
Come to Pastel Bangkok During Your Stay In Sukhumvit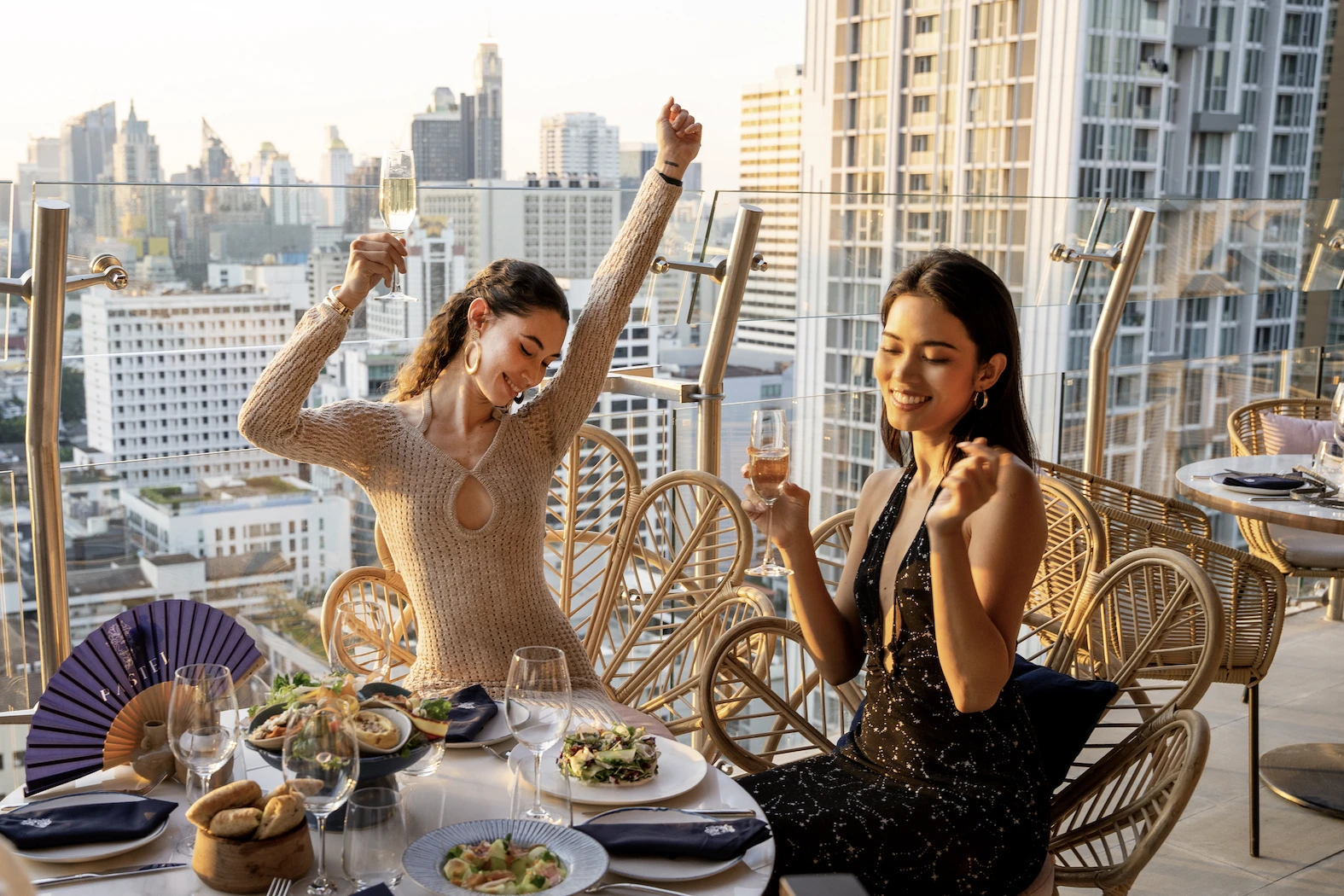 No matter which hotel you are staying in Sukhumvit, a visit to Pastel Bangkok is a must.
It is quickly becoming one of the bucket list things to do while in Bangkok.
Located on the 22nd floor of Aira Hotel, Pastel Bangkok is a world-class rooftop bar, featuring magnificent panoramic views, innovative cocktails, delicious Mediterranean food, and chilled vibes.
The rooftop bar is also a great place for a birthday party, a private event, or a romantic date.
FAQ
How much is a hotel in Sukhumvit?
Mid-range hotels cost around 2,000 to 4,000 THB per night, while luxury hotels in Sukhumvit can cost upwards of 6,000 THB per night.
What is the best hotel in Sukhumvit?
What is the best place in Sukhumvit to book a hotel?
What is the best hotel suite in Sukhumvit?
The best hotel suite in Sukhumvit is the Presidential Suite at Hyatt Regency Bangkok.