Bangkok has a completely different and unique vibe along the Chao Phraya River.
Whether it's during the day, at sunset, or at night, cruising down the river is a must-try activity.
But by far the best way to experience life along Bangkok's riverside is to take a wonderful dinner cruise.
That allows you to see the city's stunning landscape, lights, architecture, and landmarks all while tasting some of the best cuisine you can find in the city.
We looked at all the cruise operators around Bangkok and found the best ones that have delicious menus, incredible ambiance, and that offer the most unique experience.
Here are the 5 best dinner cruises in Bangkok that stand out from the rest.
Come To Pastel Before Or After Your Dinner Cruise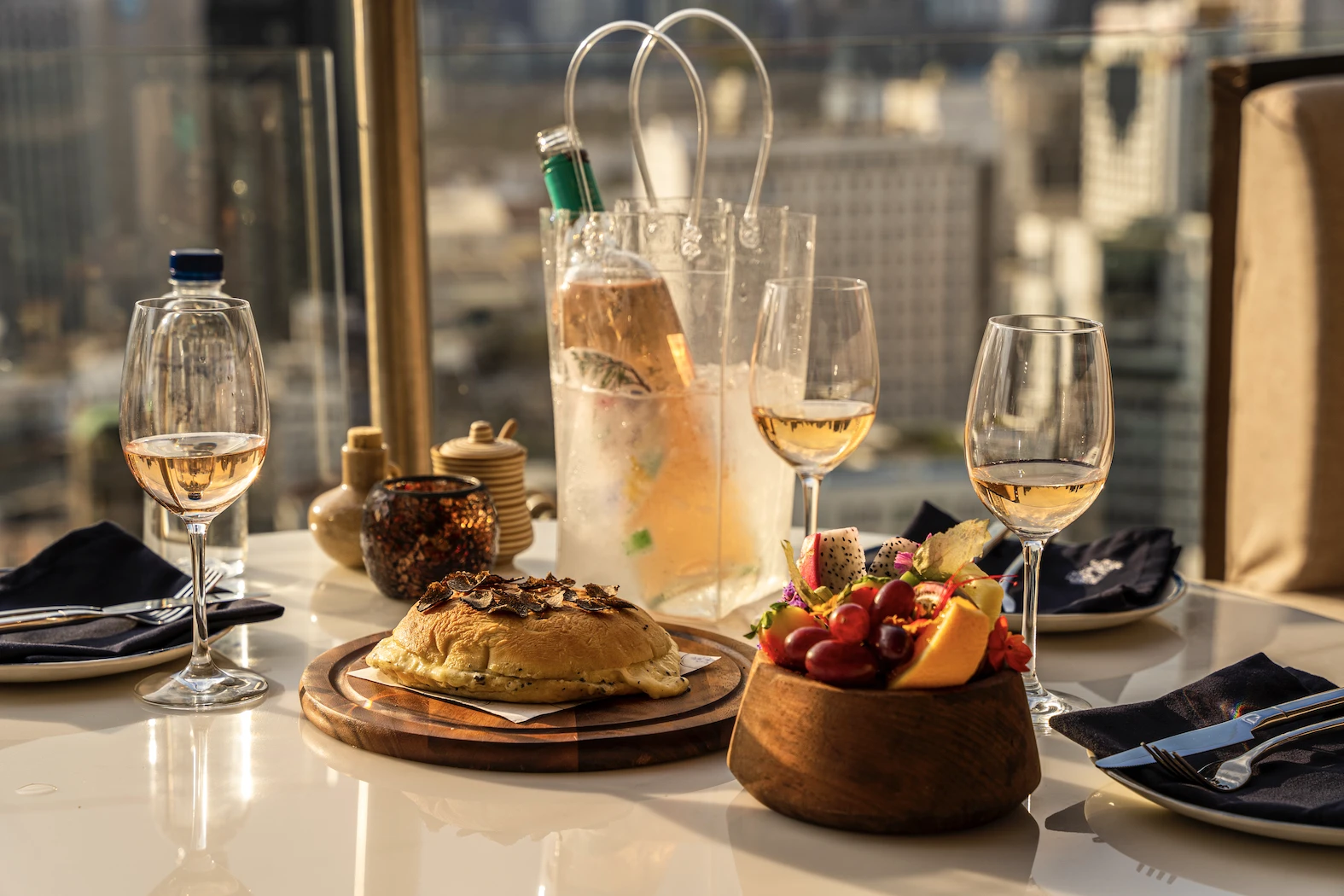 Depending on what time your dinner cruise is, Pastel is always a great place to come hang out for sunset drinks before the cruise, or for a late-night party after you're back on the shore.
You can come to grab a quick drink or bite before heading out on the cruise.
Or even better, come through for partying and dancing.
Around 10 PM, so after your dinner cruise, is when we bring out the percussion drums and saxophone while the DJ plays music that gets everyone dancing.
Pastel is the perfect rooftop bar and restaurant to start and end your night in Bangkok.
Pruek Cruise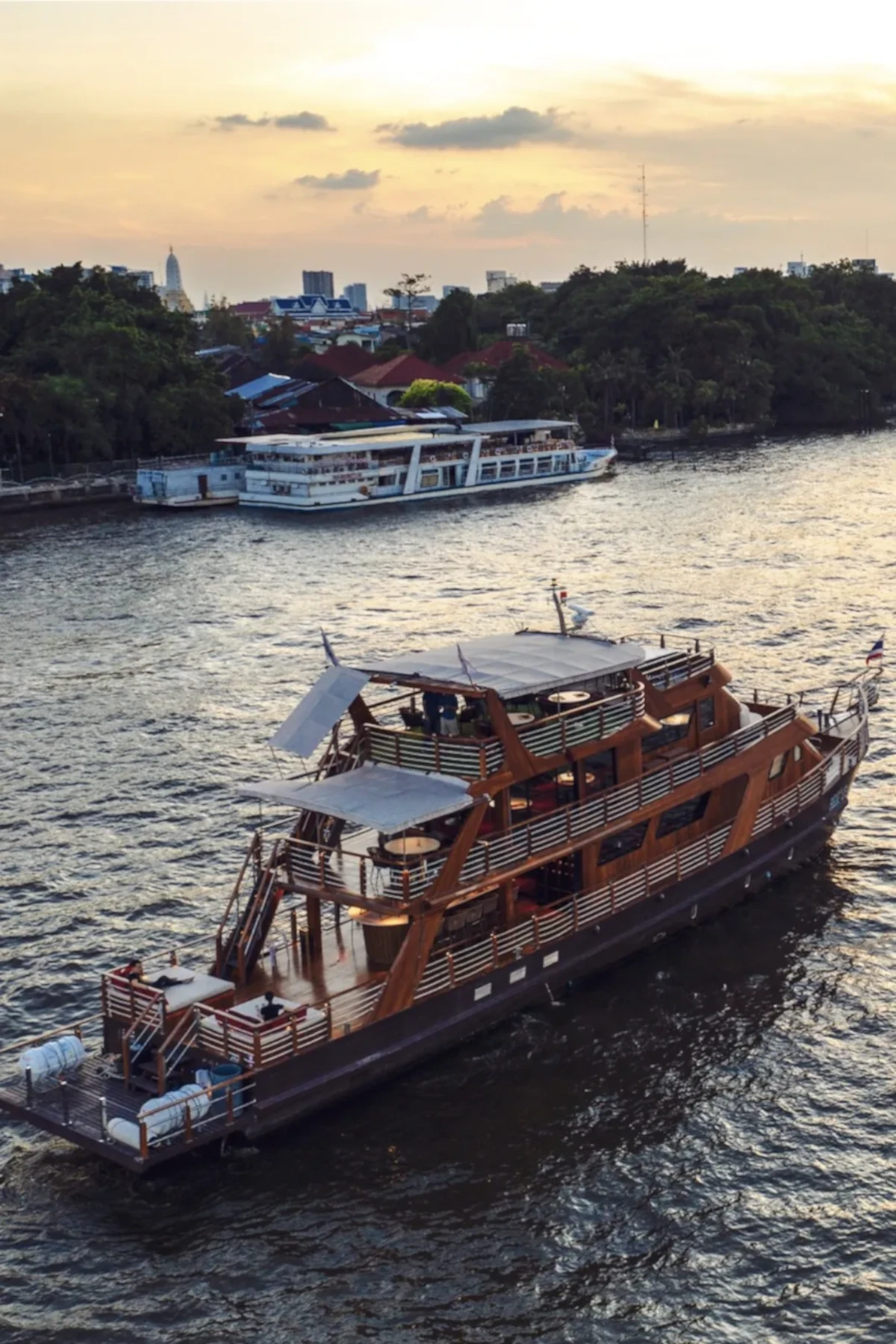 Pruek Cruise is a luxury yacht combining a VIP experience with traditional Thai culture and cuisine.
This massive 8 by 27-meter teak wood yacht has three impressive floors that feature a champagne bar, an air-conditioned lounge room, a dining room, and even a rooftop garden.
This provides guests with amazing panoramic views of Bangkok riverside from different levels.
The cruise offers an incredible fine-dining experience that features authentic Thai cuisine with a European twist.
The menu is created by famous European Michelin-starred chefs as well as talented award-winning Thai chefs.
It is perfect for intimate dinners, birthday parties, and other special occasions such as weddings.
It has been so popular and successful that even famous celebrities and VIPs organize private parties on Pruek Cruise.
Apsara Dinner Cruise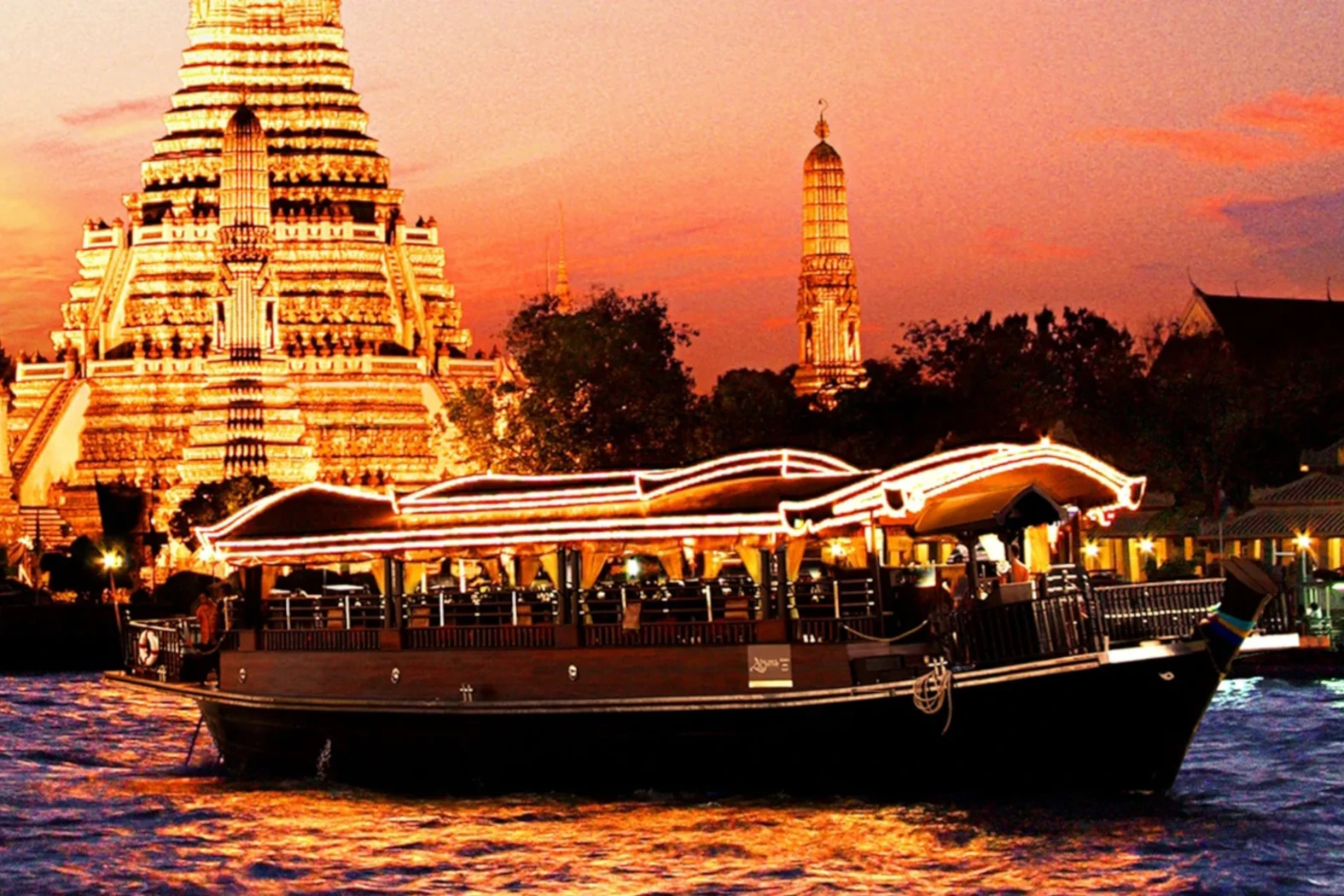 Apsara is an elegant dinner cruise operated by the legendary 5-star hotel Banyan Tree.
Apsara's cruises are available for private charters only, so be ready for an exclusive and unique dinner cruise.
That also means that you can have highly personalized experiences.
The cruise menu is a rich selection of authentic royal Thai cuisine, but if you want a particular food menu, the chef can certainly make it happen.
Do you want a specific ambiance during your cruise?
You can ask them for a live band or DJ to create the ideal mood for your event.
Apsara dinner cruises are perfect to enjoy intimate dinners or special occasions with your family, friends, and relatives.
It's also a popular choice for proposals.
And expect to see incredible landmarks during your cruise as the boat goes up and down the river.
Enjoy views of the Wat Arun and Royal Palace among many other places as you wine, dine, and party on the Apsara cruise.
Saffron Cruise by Banyan Tree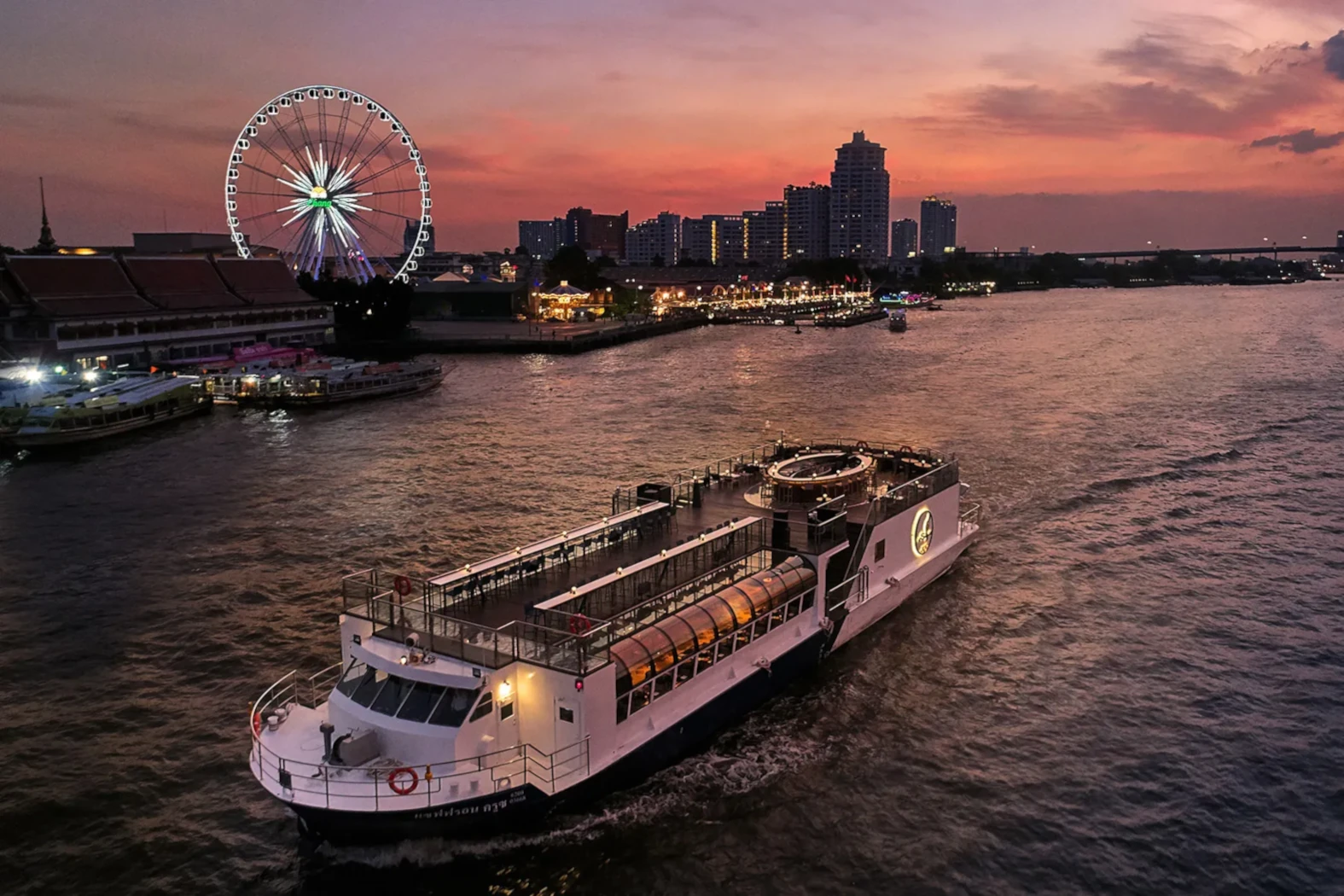 Saffron is another amazing dinner cruise managed by Banyan Tree Hotel.
It has both traditional and modern elements in its cuisine and design.
The boat is super gorgeous with a very stylish look and luxurious furnishings that will give you a very cozy river cruise experience.
Saffron Cruise also features a tasty 4-course menu that includes an appetizer, soup, main course, and dessert.
There is even a vegetarian option and a special menu for the kids.
To go along with the food, Saffron Cruise also has a large selection of signature cocktails, beer, wine, a variety of gin & tonics, and spirits.
Make sure you book a ticket or make reservations months in advance as the cruise is quite popular and is sold out almost every day.
Chao Phraya Princess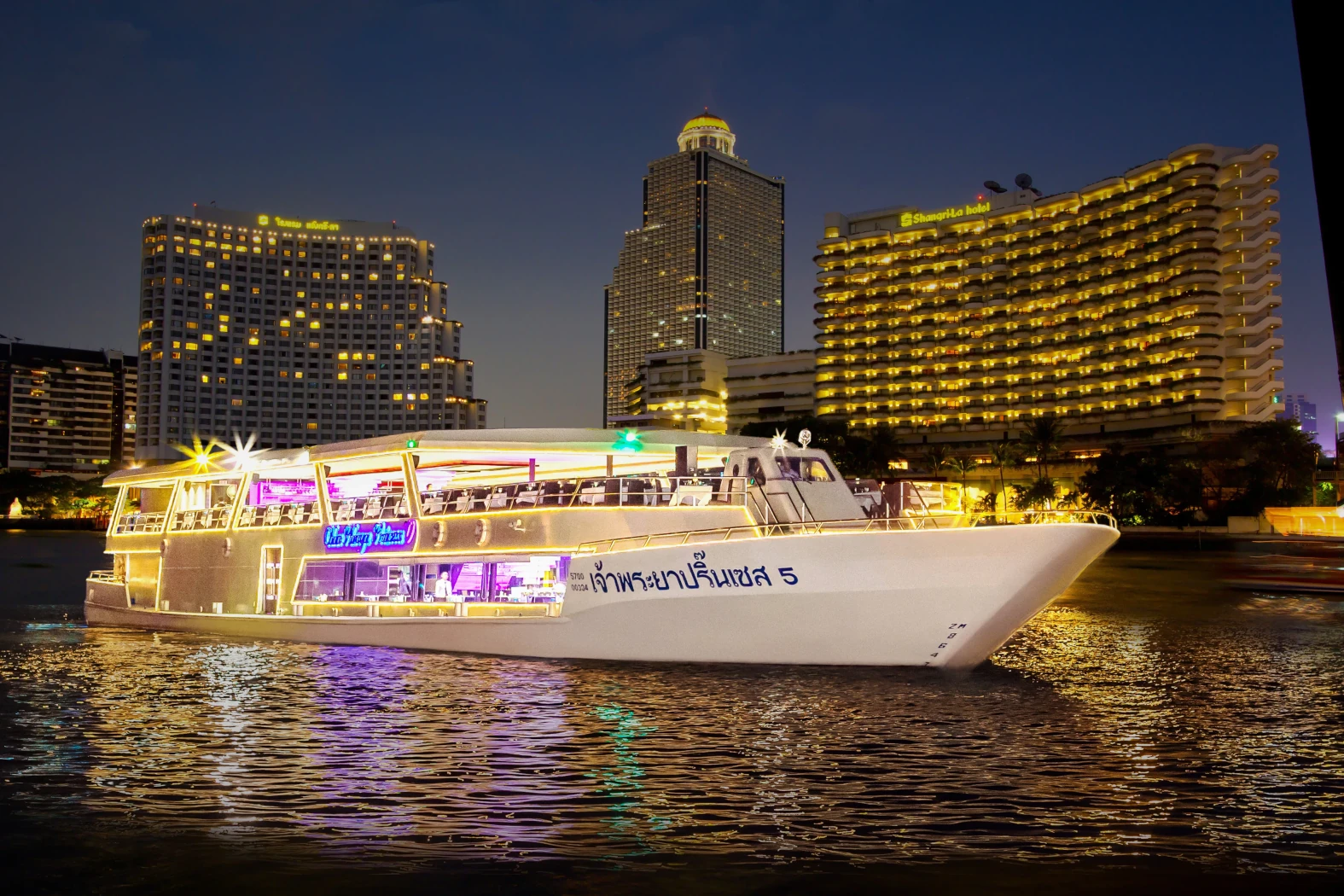 The Chao Phraya Princess is a classic Thai dinner cruise experience in Bangkok.
One that is popular not only with tourists but also with locals and expats.
Chao Phraya Princess is the most accessible dinner cruise in Bangkok with multiple boats.
The cruises come in an astonishing eight different sizes and features, carrying thousands of passengers every night.
The largest boat in the fleet can hold up to a whopping 480 passengers!
Each cruise ship is elegantly designed with a classy modern exterior and a sophisticated yet cozy interior.
The cruise ships also have two decks where you can enjoy a wonderful world-class international buffet that comes with delicious Thai food.
And every boat has entertainment, whether it's live bands playing, or karaoke nights.
The price of the Chao Phraya Princess dinner cruise is also very accessible, with special promotions almost all the time.
It is terrific value for money considering the quality of food along with entertainment and the sightseeing it offers.
Manohra Cruise Bangkok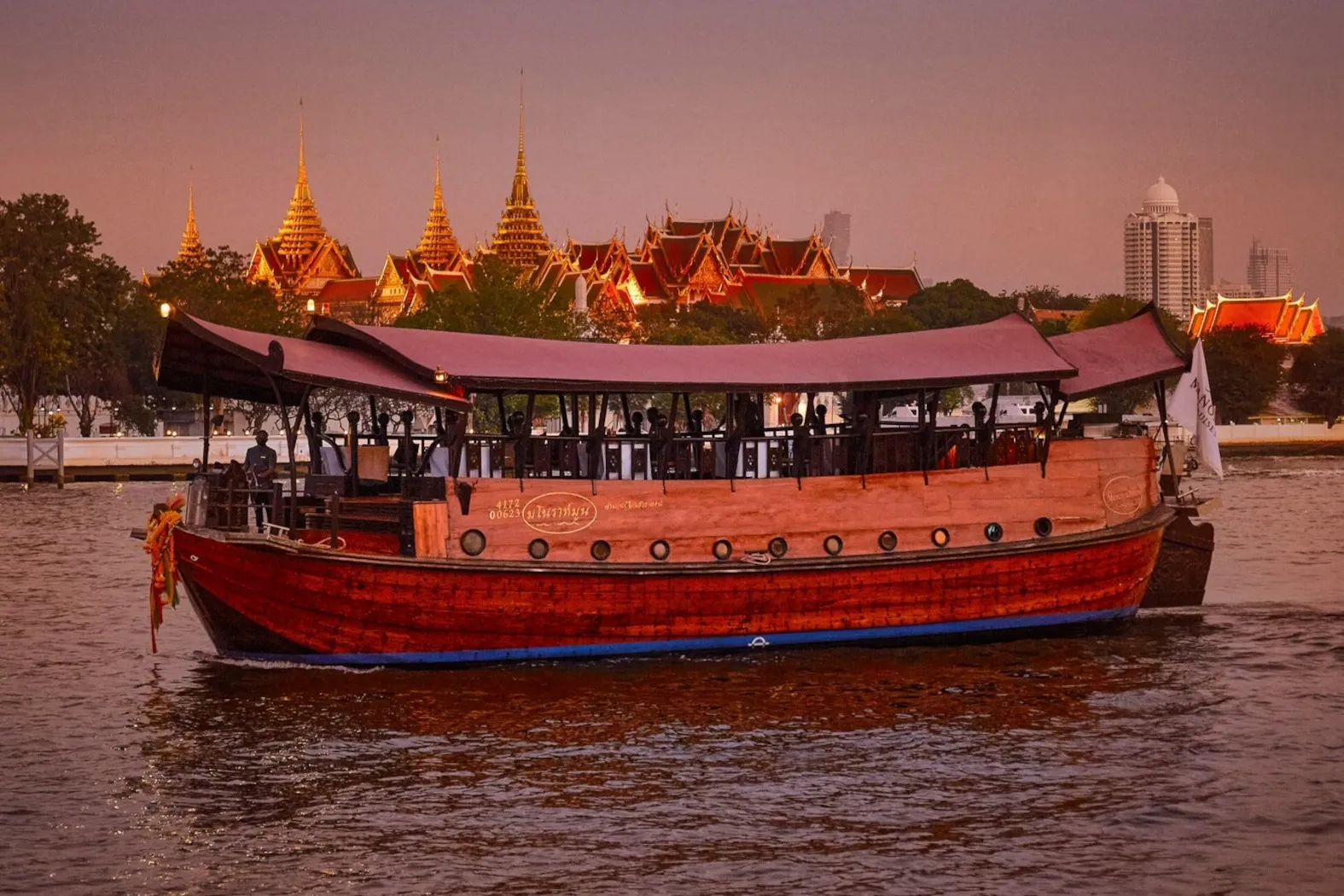 Last but not least, Manohra Cruise is quite possibly the most unique dinner cruise in Bangkok.
It is known for its amazing traditional Thai cuisine with a modern twist on presentation and aesthetics.
The cruise is managed and operated by Anantara Riverside Resort, one of the best resorts in Bangkok, so the service and the food are prepared with the same high standard as at their 5-star hotel.
But what makes Manohra really unique is their three beautiful open-air teak wood boats that have been restored from antique rice barges.
These iconic vessels were used in trade and transportation on the Chao Phraya River during the 18th century.
Being on one of these cruises is much more than just about dining on the river.
You become part of a deep-rooted culture and history.
Manohra Cruises can accommodate 30 to 60 guests, which is perfect for intimate romantic dinners, small groups, or even a private cruise.
FAQ
How much is a dinner cruise on the Chao Phraya river?
The price of a dinner cruise on the Chao Phraya river is between 1,000 and 5,000 THB per person on average.
What time are dinner cruises on the Chao Phraya river?
Dinner cruises on the Chao Phraya River start around 5 PM.
Which dinner cruise in Bangkok offers the best dining experience?
The best dinner cruise in Bangkok to have a fine dining experience is Pruek Cruise.
Which dinner cruise in Bangkok is the best for a cultural experience?
The Saffron Cruise is the best as you get to experience incredible Thai culture and dances on the cruise as you taste great traditional Thai food.