Bangkok's live music scene is one of the most incredible in the world.
From smooth jazz melodies to energetic rock 'n' roll music to cover bands playing all kinds of international hits, we're about to take you on a musical journey around the city.
Our team has been exploring all corners of Bangkok nightlife and selected for you the best live bars in the city.
Pastel Bangkok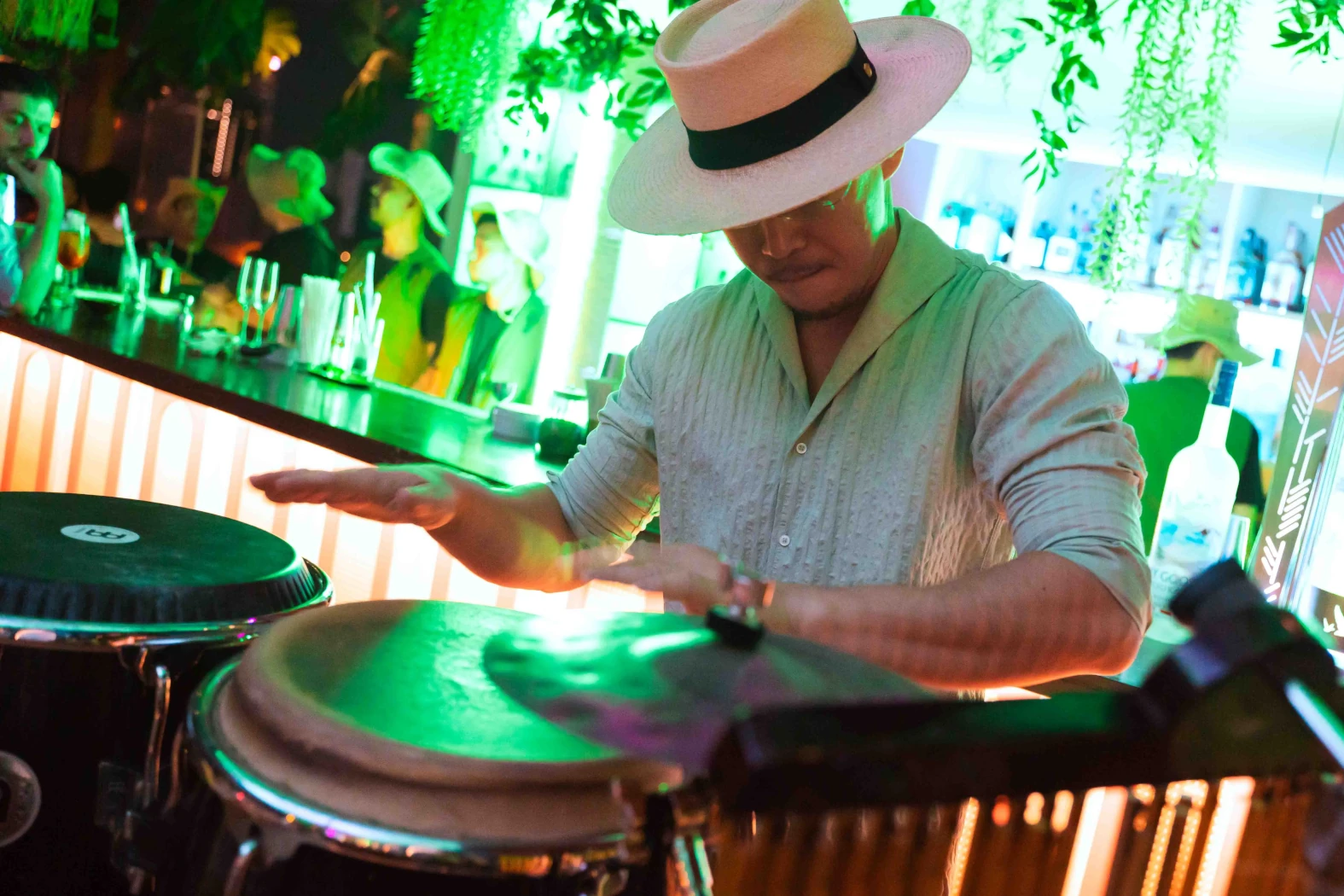 Pastel is one of the trendiest rooftop bars in Bangkok with a combo of delicious cocktails, sweet live beats, and a cool rooftop breeze.
Located on the 22nd floor of the Aira Hotel in Sukhumvit 11, Pastel is an ideal spot for any kind of night out you are looking for.
Every Monday from 8 PM onwards, come to dine and dance with our live band, including a very talented guitarist and violinist.
The band plays everything from Latin and French-Mediterranean music to cover versions of popular songs.
They really know how to elevate your evening with their catchy live tunes.
After the band finishes their set, our in-house DJs take over, and get everybody partying and dancing until late.
The Golden Giraffe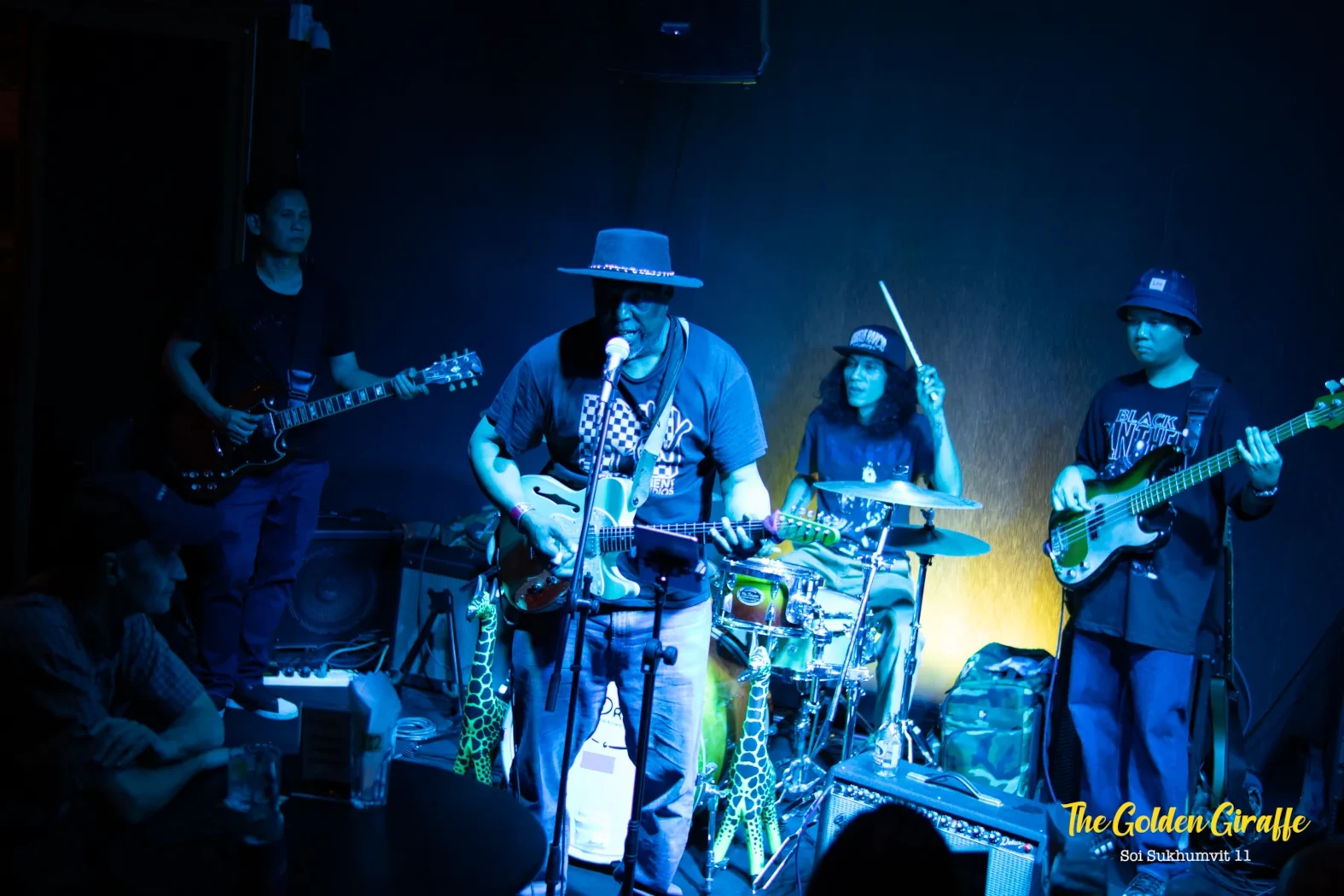 The Golden Giraffe is another popular bar in Sukhumvit Soi 11 with amazing live bands.
The bar creates the perfect harmony of fun and laidback vibes, amplified by live music.
The music is quite diverse at The Golden Giraffe and ranges from blues and funk to classic rock and grunge to alternative rock and even heavy metal.
Sometimes, the bar also invites famous international bands for special concerts and shows.
As for the crowd, it's a good mix of locals and expats who are fans of the live band scene in Bangkok.
And because of its fantastic location in one of the most popular party streets in Bangkok, many tourists who pass by also like to walk in.
Get in early as the bar is quite small.
Abandoned Mansion Bangkok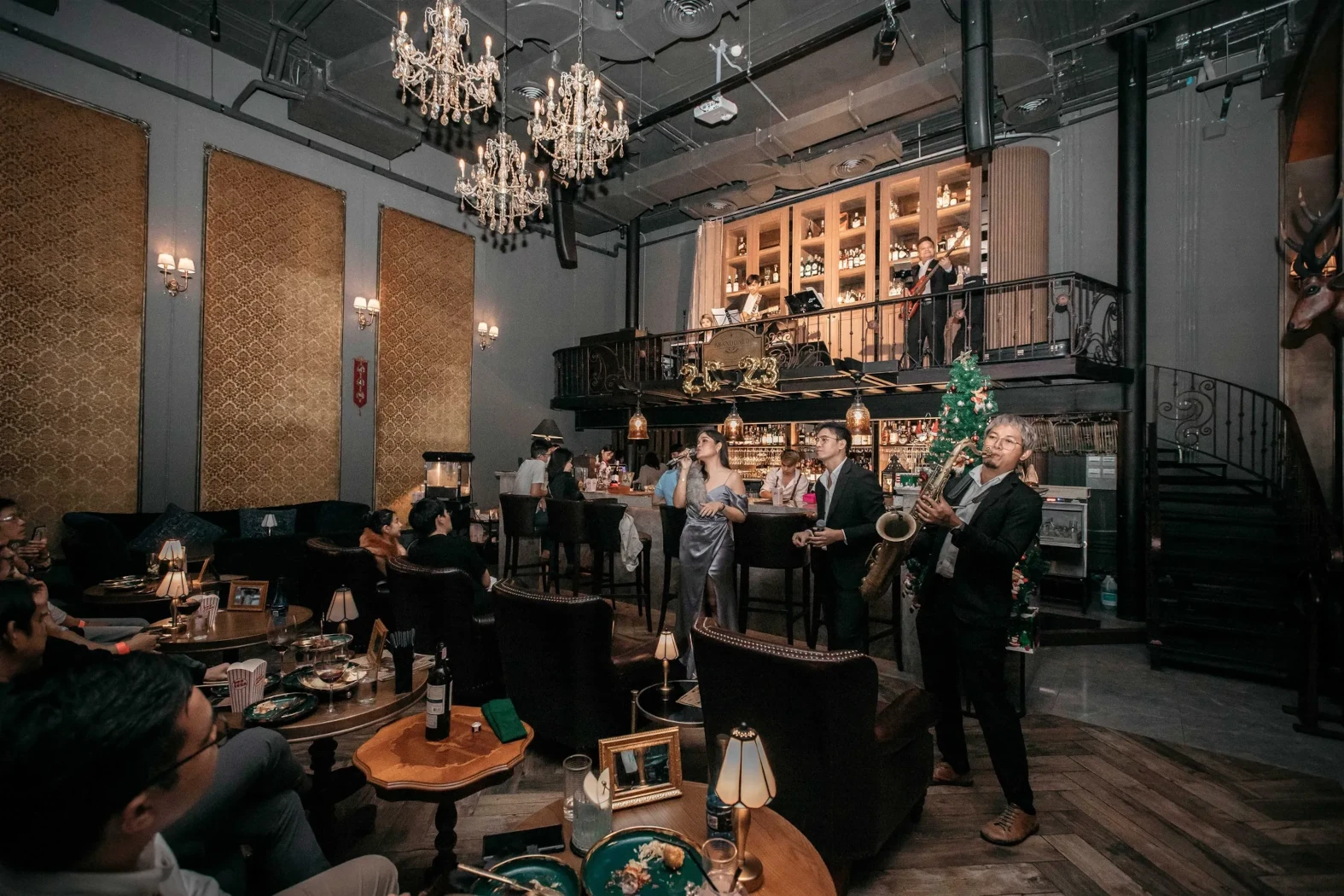 Step back in time to the 1920s in the USA at the Abandoned Mansion, where jazz and blues fill the air.
This speakeasy bar in The Coach Hotel's basement is a hit for date nights, offering smooth music and sophisticated cocktails.
It is a popular hangout spot for sophisticated locals and expats who enjoy incredibly good cocktails, wonderful intimate vibes, and soothing jazz and blues music.
Abandoned Mansion mostly hosts local bands and singers but does invite international artists from time to time.
The bar is designed with a vintage look that really transports you back to the US prohibition era.
There is also a gangster theme where all the drinks are named after infamous figures from American history.
The Iron Fairies Music Bar Bangkok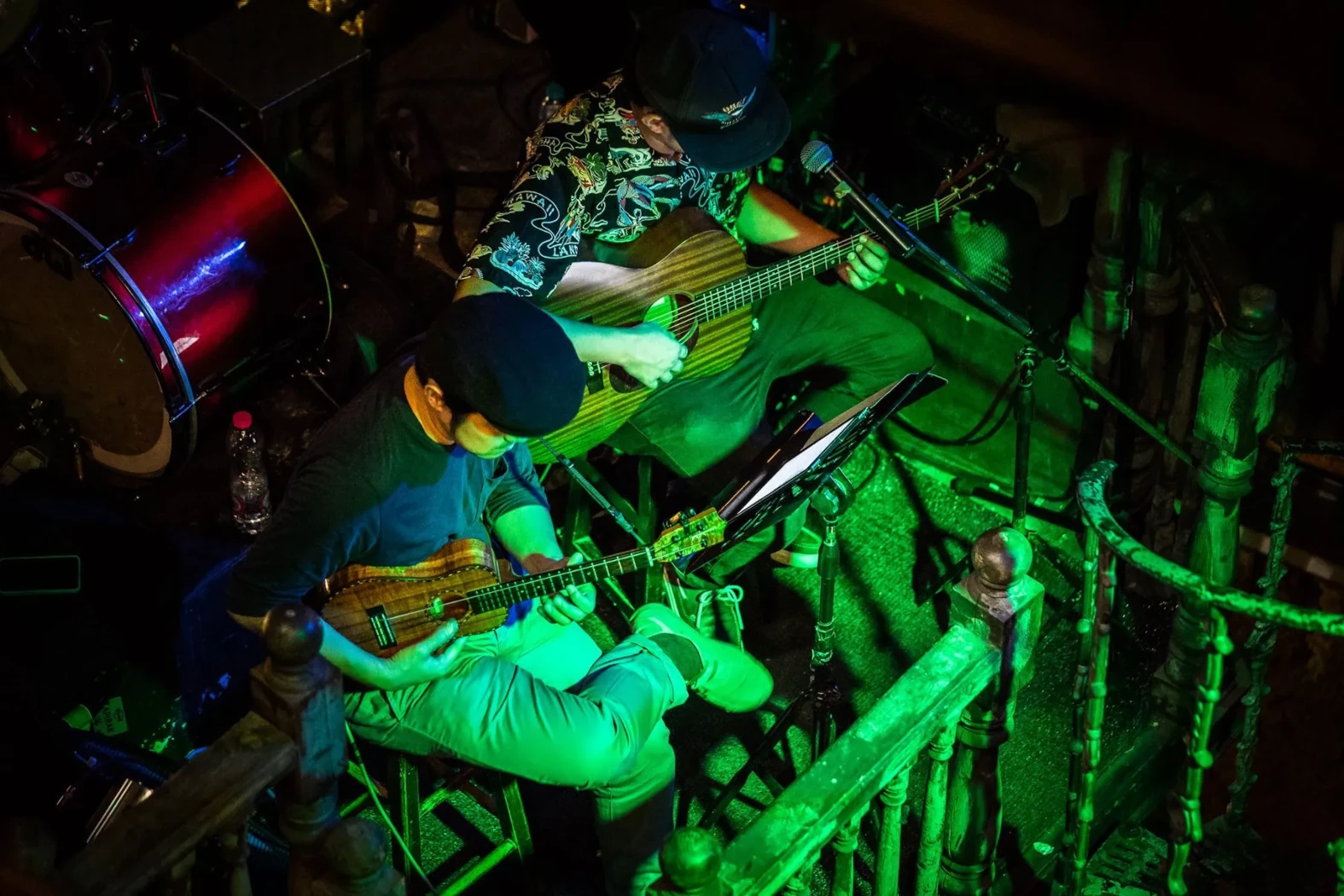 Enter the enchanting world of Iron Fairies, a place where fairy tales come alive thanks to its vintage charm and mysterious vibes.
After its success in Thonglor, Iron Fairies opened a bigger and better bar in Sukhumvit Soi 39.
Here you will have an amazing night of live music and exceptional mixology.
Iron Fairies has both in-house and guest performers every night of the week.
Each band or solo artist has their own unique style but they always manage to attract a large crowd of expats and sophisticated Thais.
The bands play a diverse range of music making every night there an adventure.
There is no specific genre that the bar is used to as they are always experimenting and welcoming new performers.
In addition, they also host DJs that can play anything, all the way from disco to house and techno.
Keep an eye on their social media to find out what to expect.
Bluebird Jazz Bar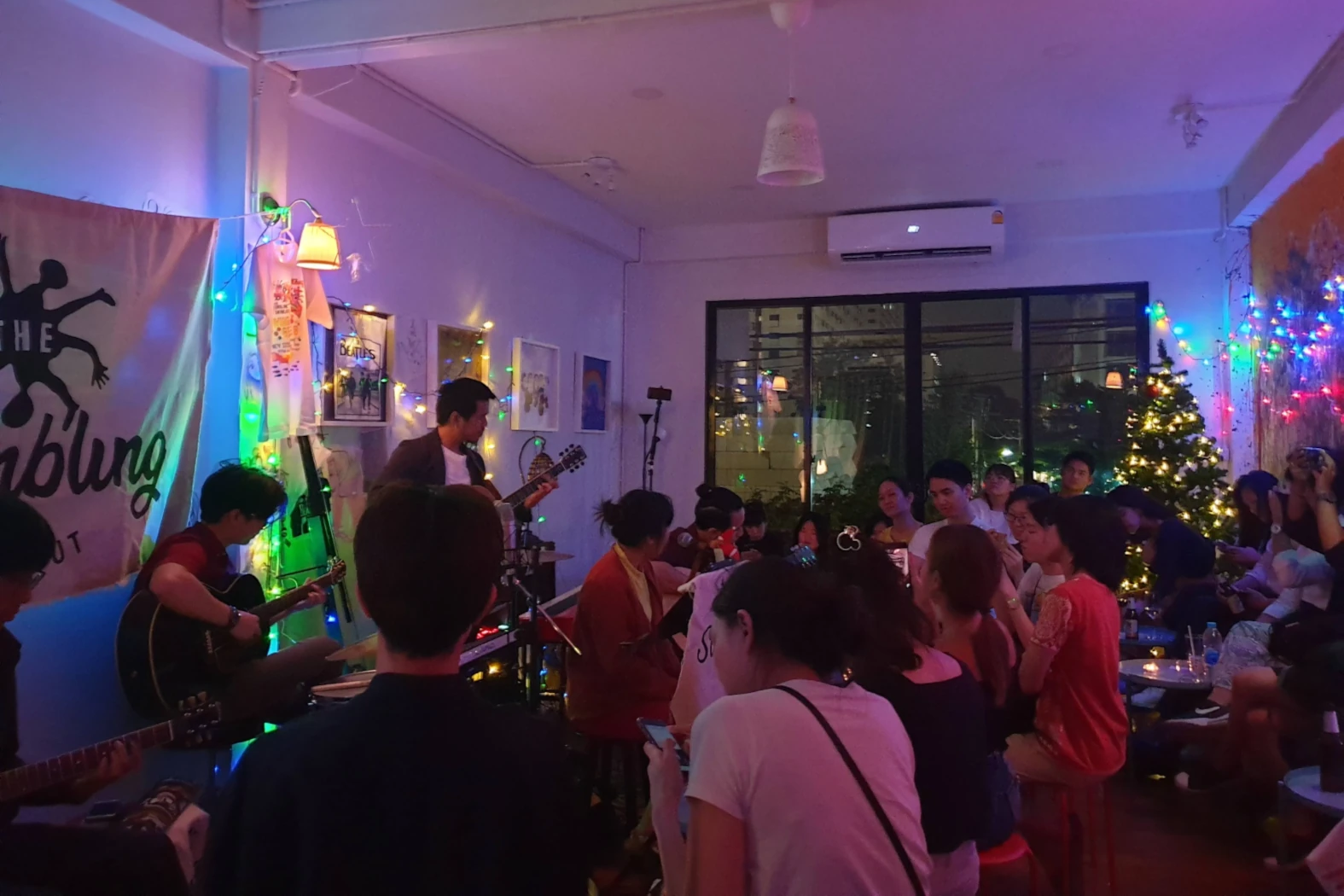 Bluebird Jazz Bar is completely different from the rest of the live music bars on our list.
This venue is a cute hidden gem that is visited mostly by regulars and jazz music enthusiasts.
You will usually meet groups of young Thais here with less than a handful of expats.
The bar has a very cozy and casual atmosphere where it kind of feels like friends are playing jazz for each other in their living room.
Bluebird is not just a jazz bar though.
It is also an art gallery with artistic pieces and vinyl records as part of the décor.
For those looking for a chilled-out and humble space to hang out with live jazz and blues music, Bluebird is a refreshing place to go.
FAQ
Do rooftop bars in Bangkok have live music?
What are the best live music bars in Sukhumvit?
The best live music bars in Sukhumvit are Iron Fairies, The Golden Giraffe, and Abandoned Mansion. All the Hillary outlets are also pretty good.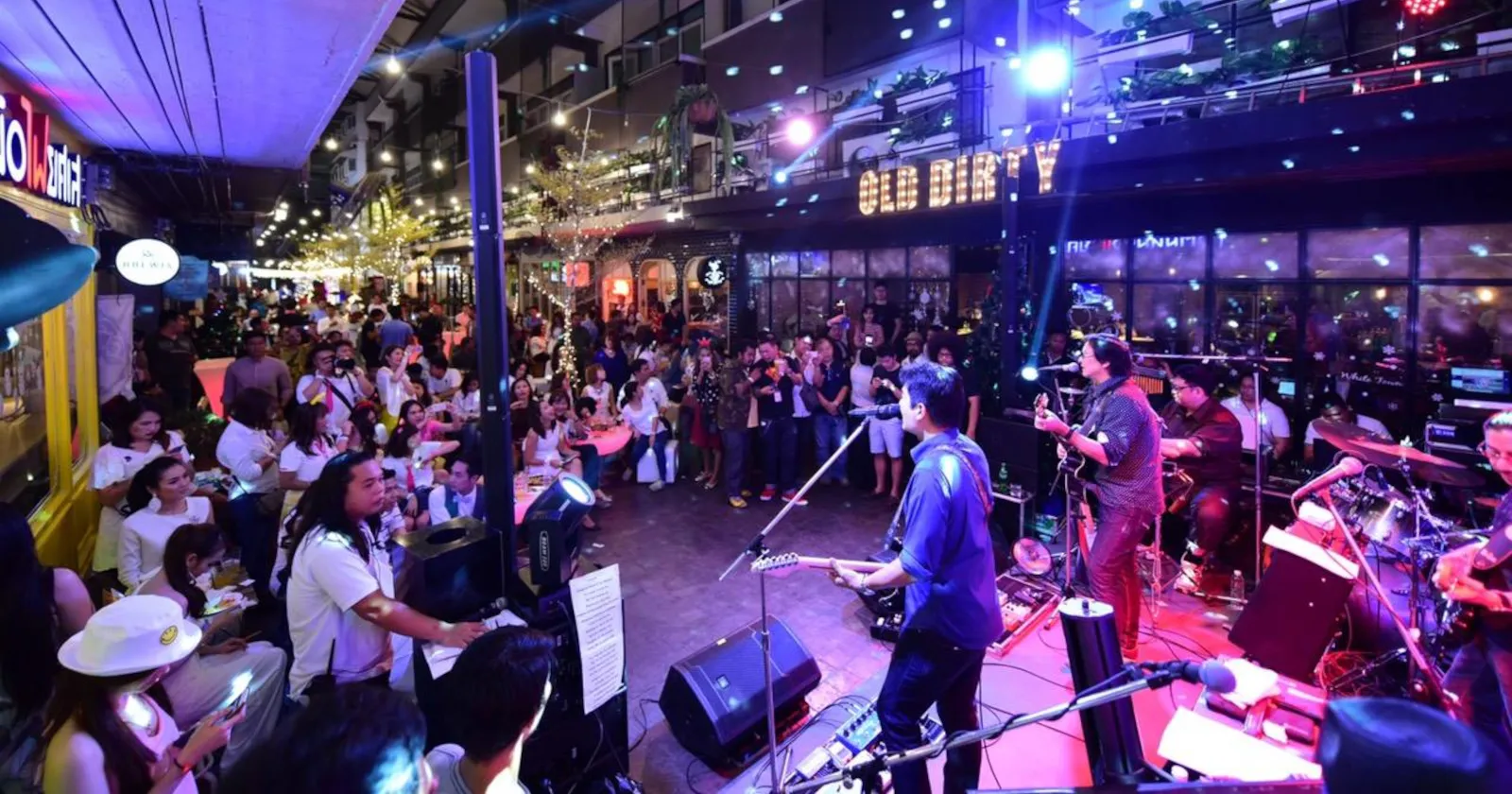 Follow Pastel Team Through Bangkok
Our team has selected the best spots in Bangkok for you.
Whether you're looking for the best hotels in Sukhumvit or the best of Bangkok nightlife, we've got you covered.
And don't forget to reserve your table to come party with us at Pastel.