There is always something going on in the streets of Bangkok.
But when the sun comes down, the city transforms into a vibrant, relentless beast filled with energy, entertainment, and epic parties.
But not every neighborhood is the same.
Let's explore 5 of the best nightlife streets and areas to have unforgettable parties in Bangkok.
Sukhumvit Soi 11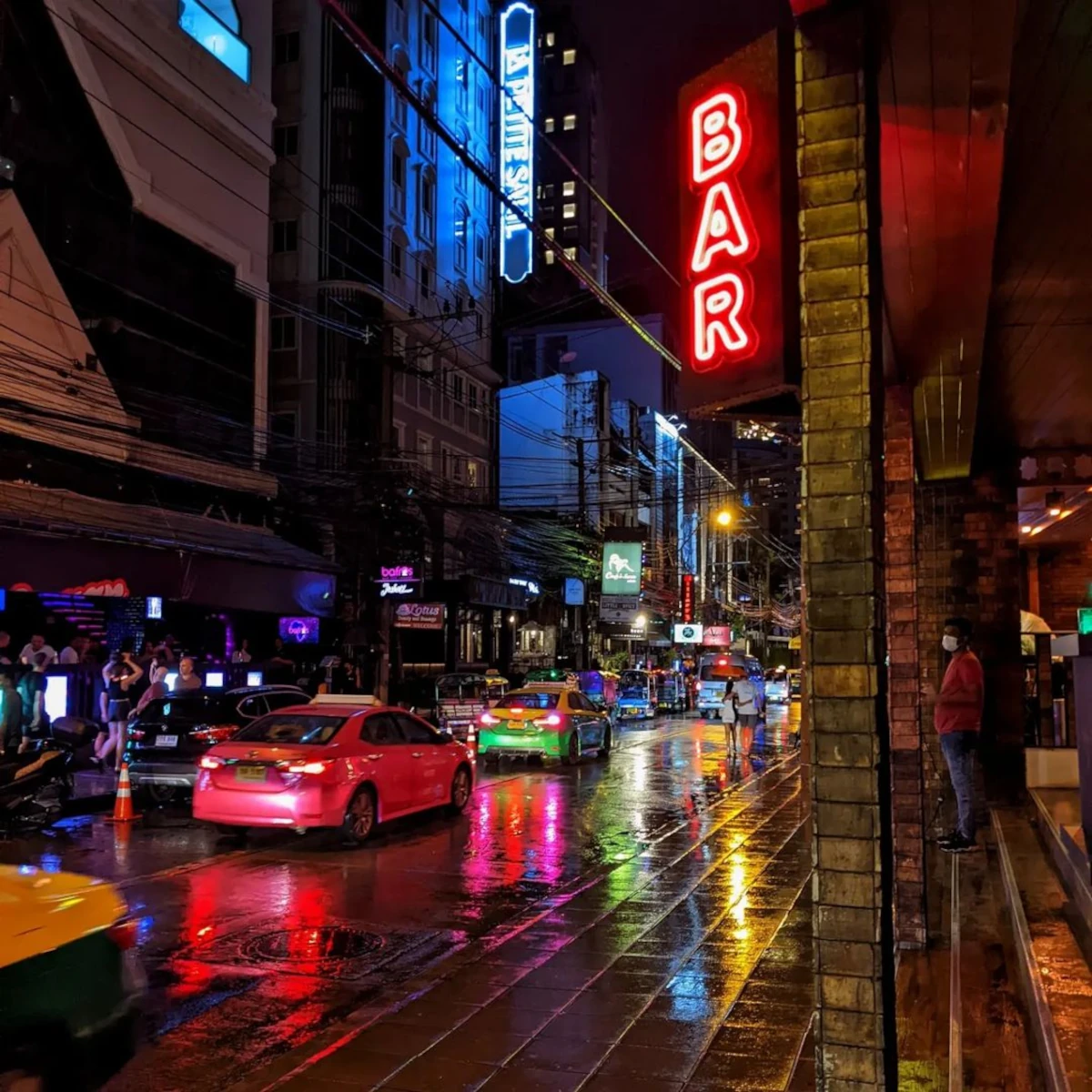 Sukhumvit Soi 11 is where the party always starts.
It is one of Bangkok's most happening party streets, filled with all kinds of entertainment venues, nightlife spots, restaurants, and shops.
Some of the best bars are here, from sophisticated cocktail bars to live music and beer bars, and even trendy rooftop bars.
There are quite a few legendary clubs on this street as well.
That's why expats and tourists from around the world love to come to Sukhumvit Soi 11 for unforgettable nights.
Don't be surprised if you find some of the sexiest Thai girls hanging out around here too, no matter which bar or club you go to.
Now if you want to meet the best crowd and gorgeous models, make sure you visit Pastel.
We have incredible vibes, legendary parties, and delicious Mediterranean food up here.
Reserve now for the best tables in the house.
Thonglor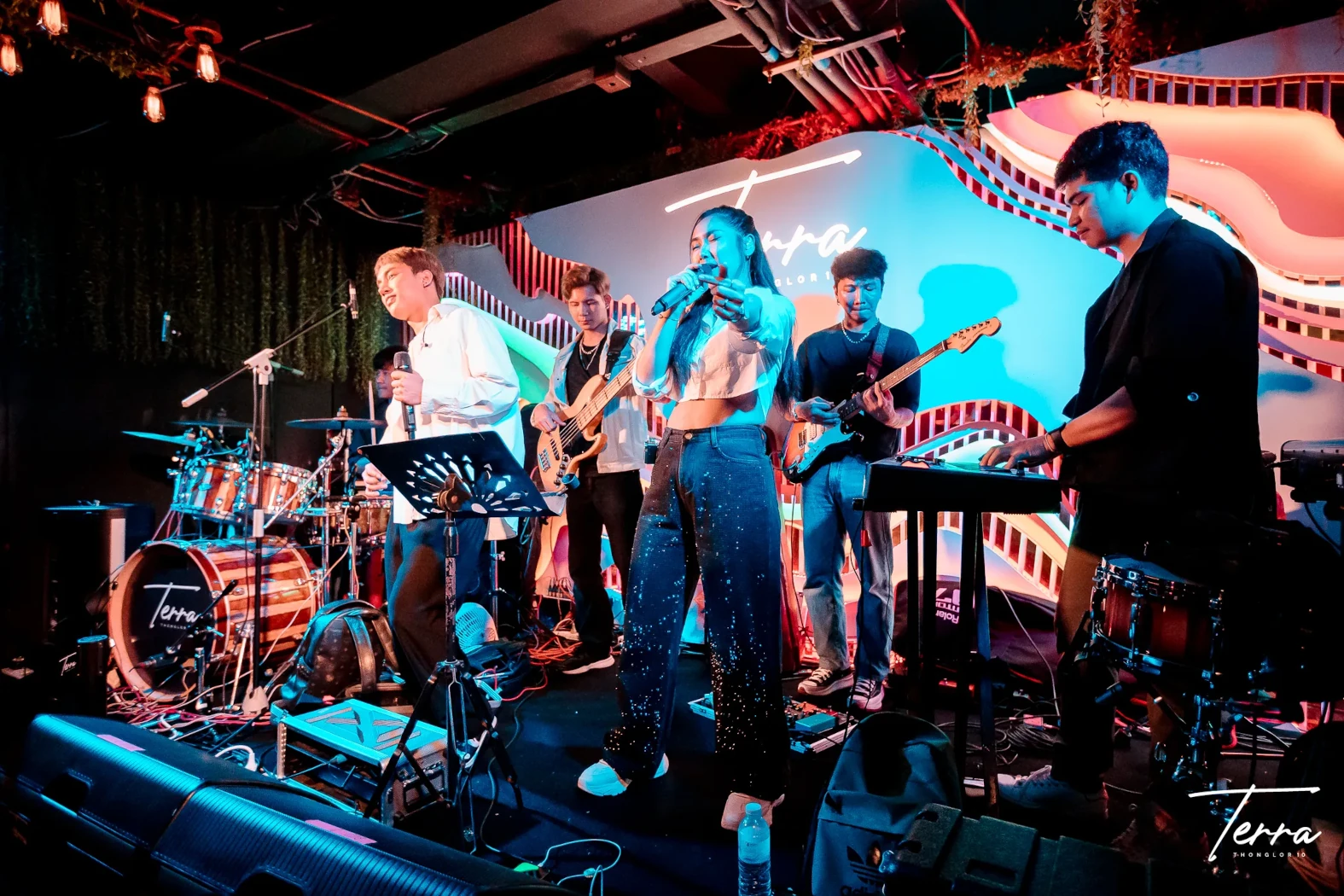 Thonglor is where all the wealthy and famous people of Bangkok go to party.
It is a super exciting and trendy neighborhood with many amazing dining and nightlife spots.
If you are looking for sophisticated vibes, beautiful people, and upscale venues, Thonglor certainly tops the list as one of the best party areas in Bangkok.
You will discover all sorts of chic bars, elite clubs, lounges, and incredible rooftop bars that are either located along the main road or hidden deep in the sois (a side street or alley branching off a main road).
Popular venues such as 72 Courtyard, Rabbit Hole, and Octave (just to name a few) regularly attract affluent Thais, university students, and expats.
Don't be surprised if you see a lot of incredibly attractive models and influencers in Thonglor either.
They tend to frequent the best bars and clubs in the area.
RCA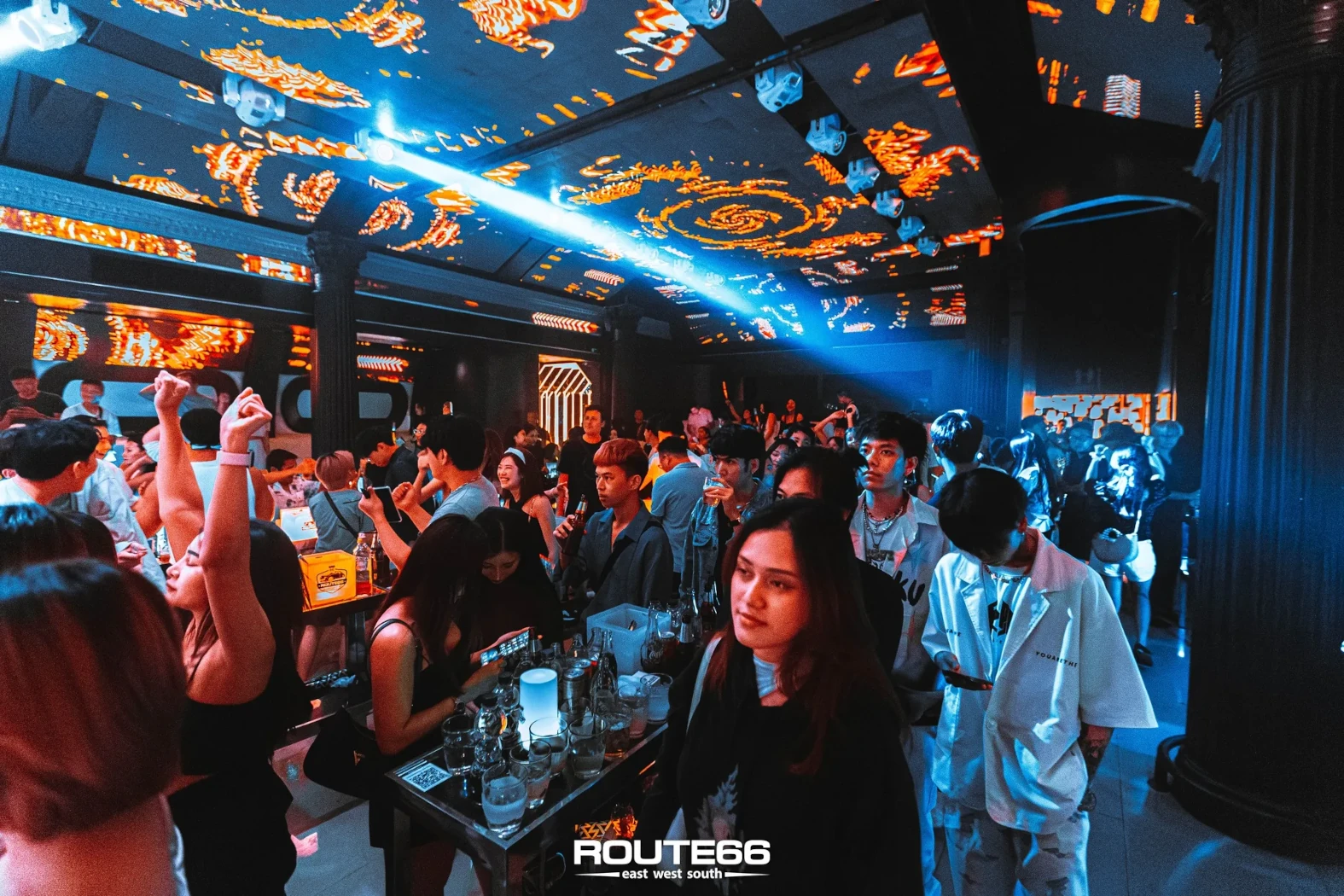 Just beyond Thonglor is another epic nightlife area known as Royal City Avenue.
Or simply, RCA.
This place is an absolute haven for party animals.
It is home to some of the biggest mega clubs in all of Bangkok.
Legendary nightclubs like Route 66, Onyx, and Spaceplus are all located here.
These clubs play music ranging from EDM and techno to hip-hop and trap.
There are also beer gardens and live music bars where you can eat, drink, socialize, and listen to live bands.
The crowd in RCA is a mix of Thai students and well-off Thais and Asians.
RCA also hosts epic events, festivals, and concerts featuring famous DJs and artists from around the world.
But if you really want to experience RCA at its best, come during Songkran when the entire area becomes a massive water fight battleground.
Sathorn and Silom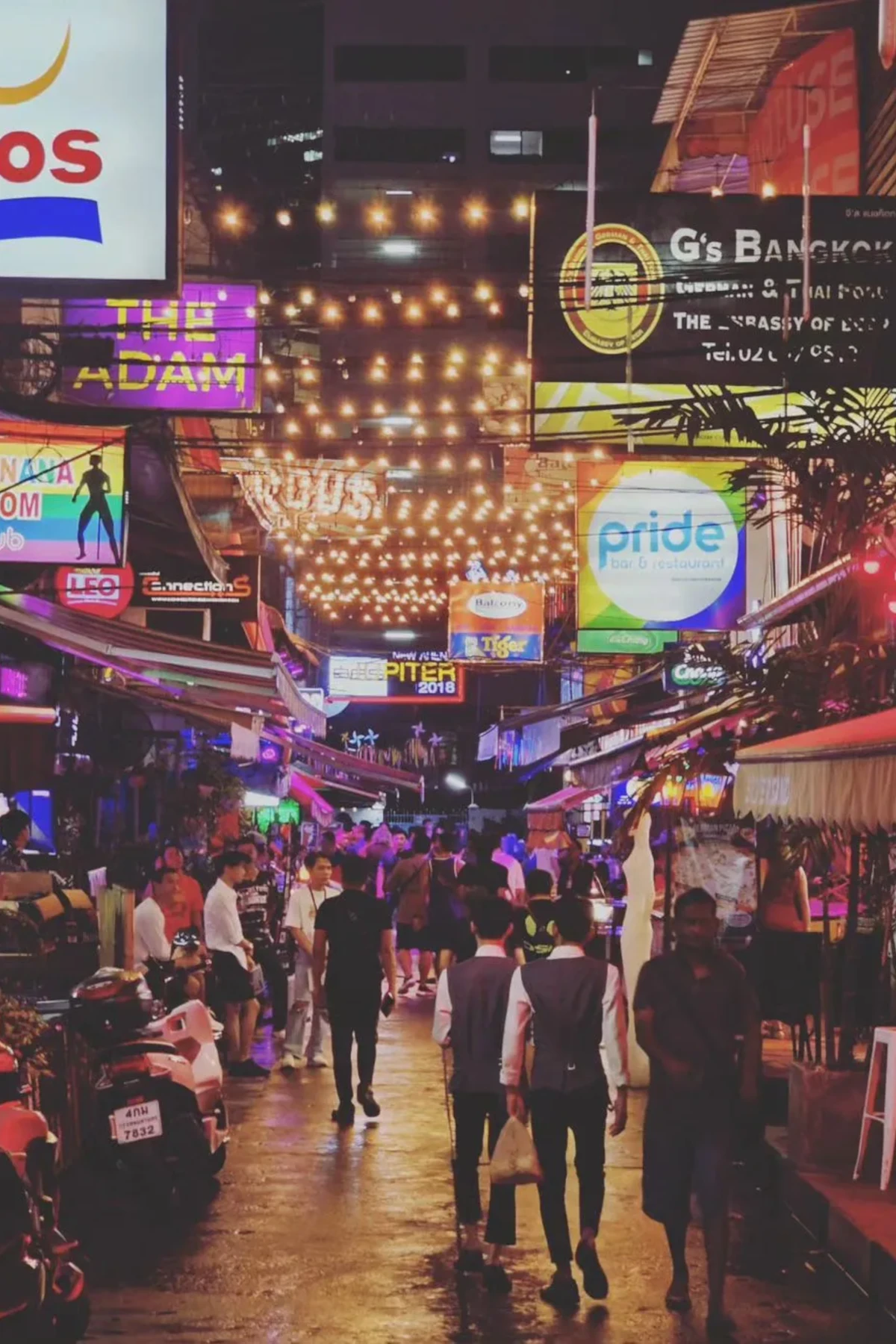 When it comes to popular but slightly underrated nightlife spots, Sathorn and Silom definitely come to mind.
These two parallel neighborhoods have countless nightlife venues ranging from award-winning cocktail bars and rooftop bars to underground clubs and lounges.
Sure, there are super popular places in Sathorn and Silom such as Sky Bar at Lebua and Vertigo (two of the top rooftop bars in Bangkok), and Maggie Choo's (a nightclub).
But you will also find incredible secret and speakeasy bars as well.
We could literally go on and on about even more bars that keep springing up around the streets of Silom and Sathorn.
And you could spend days or even weeks uncovering them all, which is what makes these two neighborhoods such a treat for a sophisticated night out.
It's no wonder that so many expats, locals, and tourists all love to visit these neighborhoods.
Khaosan Road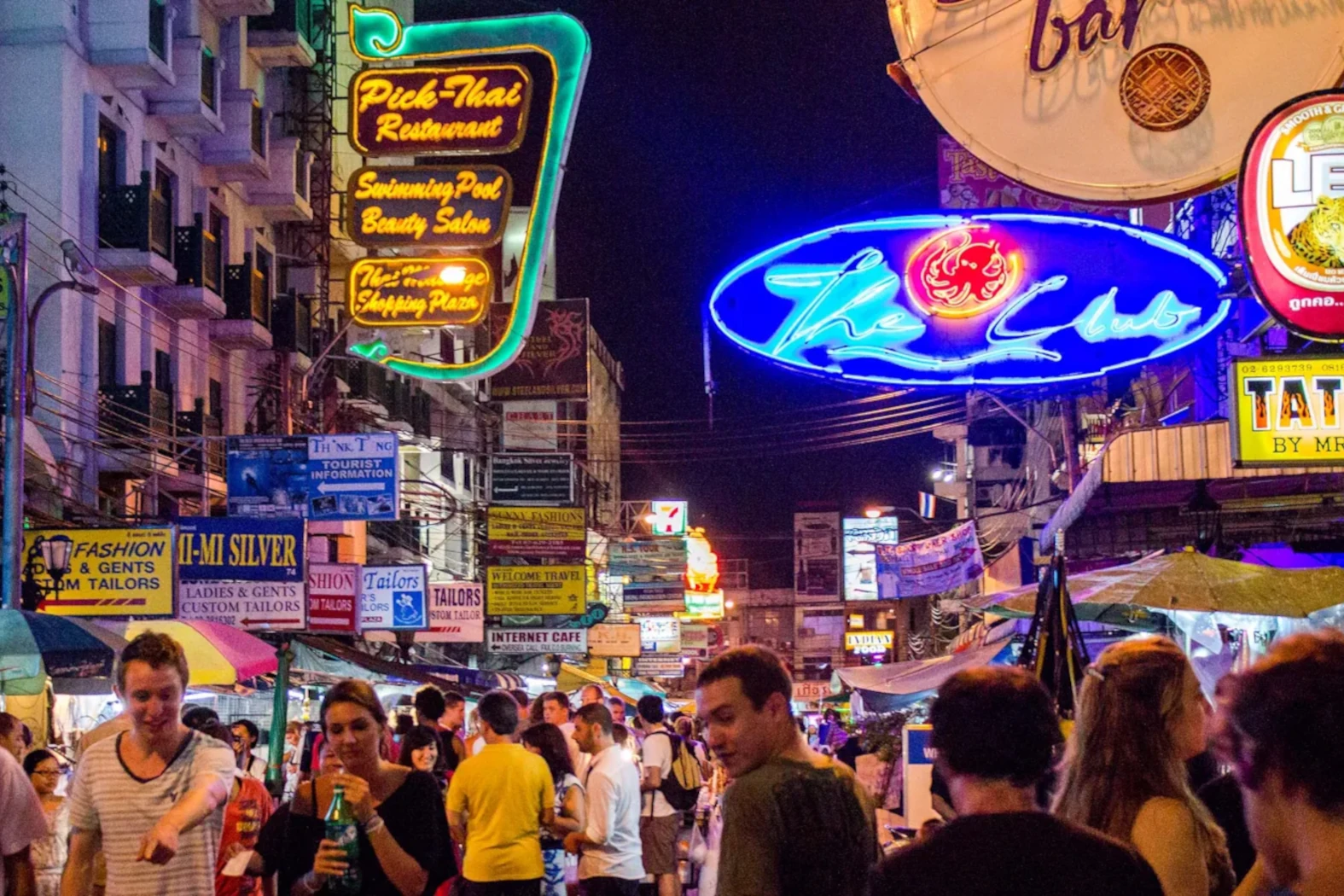 Khaosan Road is often listed as the best party street in Bangkok by tourist guides.
It is in reality a wild party zone that attracts people from all over the world.
While it is definitely popular among backpackers and tourists, young Thais and university students also frequent the bars and clubs here, especially on the weekends.
There are beer and cocktail bars as well as clubs and rooftop lounges in Khaosan.
The street is known for its bars serving super strong and cheap alcohol buckets.
Not sure where to go in Khaosan?
Well, the 410m strip is packed with bars and you can basically choose the one that catches your attention as you walk through.
However, for the best club experience go to The Club.
And if you want to party with locals, try the Brick Bar.
To escape the chaos of Khaosan, head up the Bangkok View rooftop bar, located right above Rocco Club.
Now that you have an idea about the best places to party in Bangkok, where will you go to your next party?
What we can guarantee is that no night of partying in Bangkok is complete without experiencing the elegance and vibrant atmosphere at Pastel.
Reserve your table with us today.
FAQ
What is the wildest street in Bangkok?
Which street in Bangkok is best for nightlife?
Where is the best nightlife area to stay in Bangkok?