Eat. Drink. Dance. Repeat.
This could be the definition of a party restaurant.
Ever dreamt of an evening where your dining evolves into dancing, without swapping venues?
Welcome to the exciting world of party restaurants!
From Miami to Bangkok, restaurants are now about way more than what is on the plate.
Kiki on the River, Bagatelle, Billionaire, Pastel Bangkok, and many others are at the forefront of this new trend.
You don't go to these restaurants only to dine, but also to drink, party, dance, and celebrate!
Here's everything you need to know about this trend that is taking over the world.
What Is A Party Restaurant?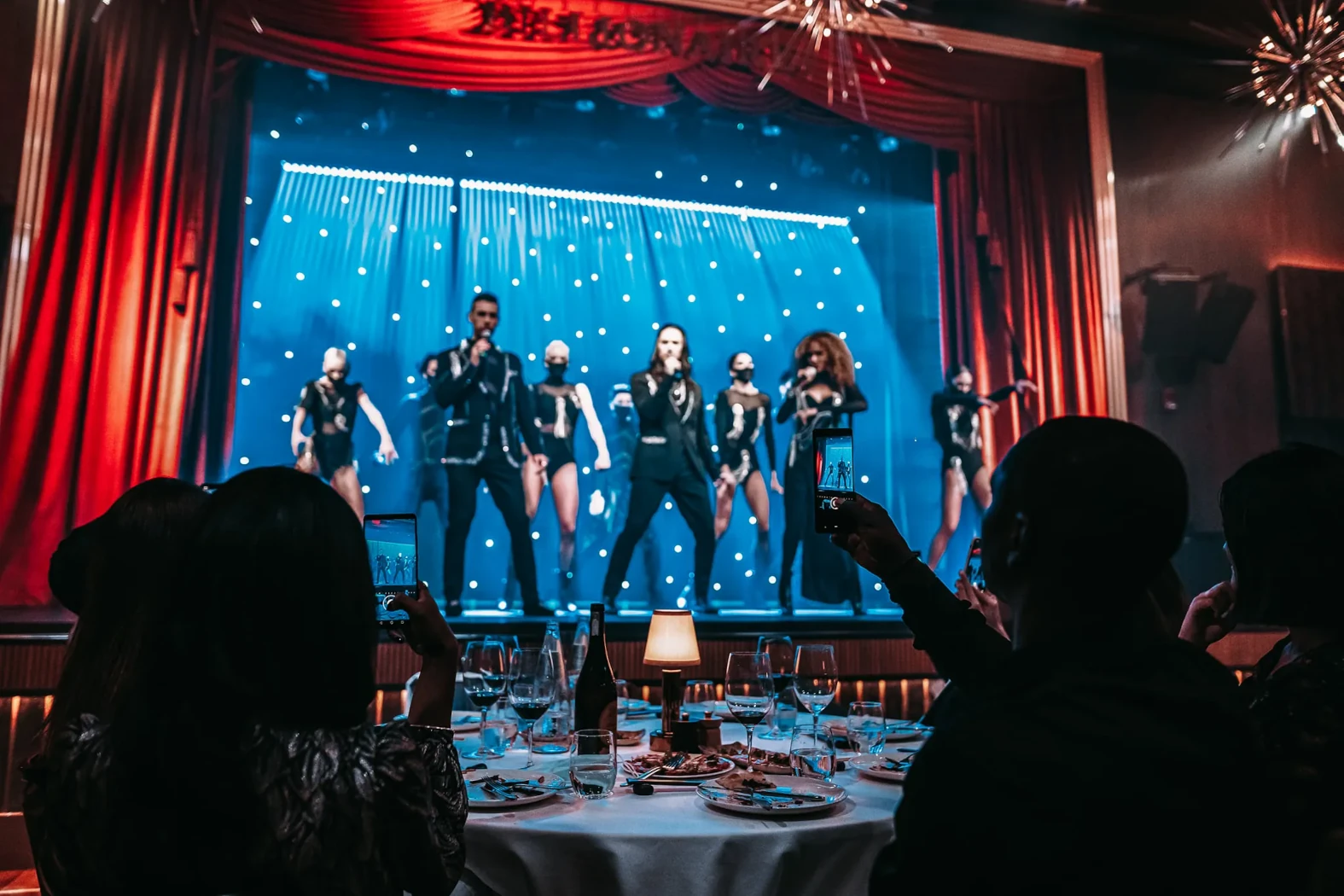 Party restaurants are a fusion concept blending the delectable offerings of a restaurant with the lively vibe of a nightclub.
The idea isn't to just offer a meal but a unique experience and an entire evening's worth of entertainment.
So, where did this trend come from?
The idea of a party restaurant isn't new.
It started with places like cabarets in France where people ate dinner and watched shows.
But now, party restaurants are becoming more fun, and new concepts are taking the trend to new highs.
People want more than just food; they want a whole exciting experience.
Similar to the speakeasy trend for cocktail bars, the idea is to propose an experience that goes beyond the food.
A place where you go to have a fine dining experience and move on to bottle service and dancing the night away.
The ambiance is electric – imagine mood lighting, a sprinkle of neon, and an atmosphere that builds in energy as the night progresses.
Menus are tailored for shared dining, carefully crafted drinks, and a great place to celebrate any occasion such as a birthday, a corporate party, or even a hen night.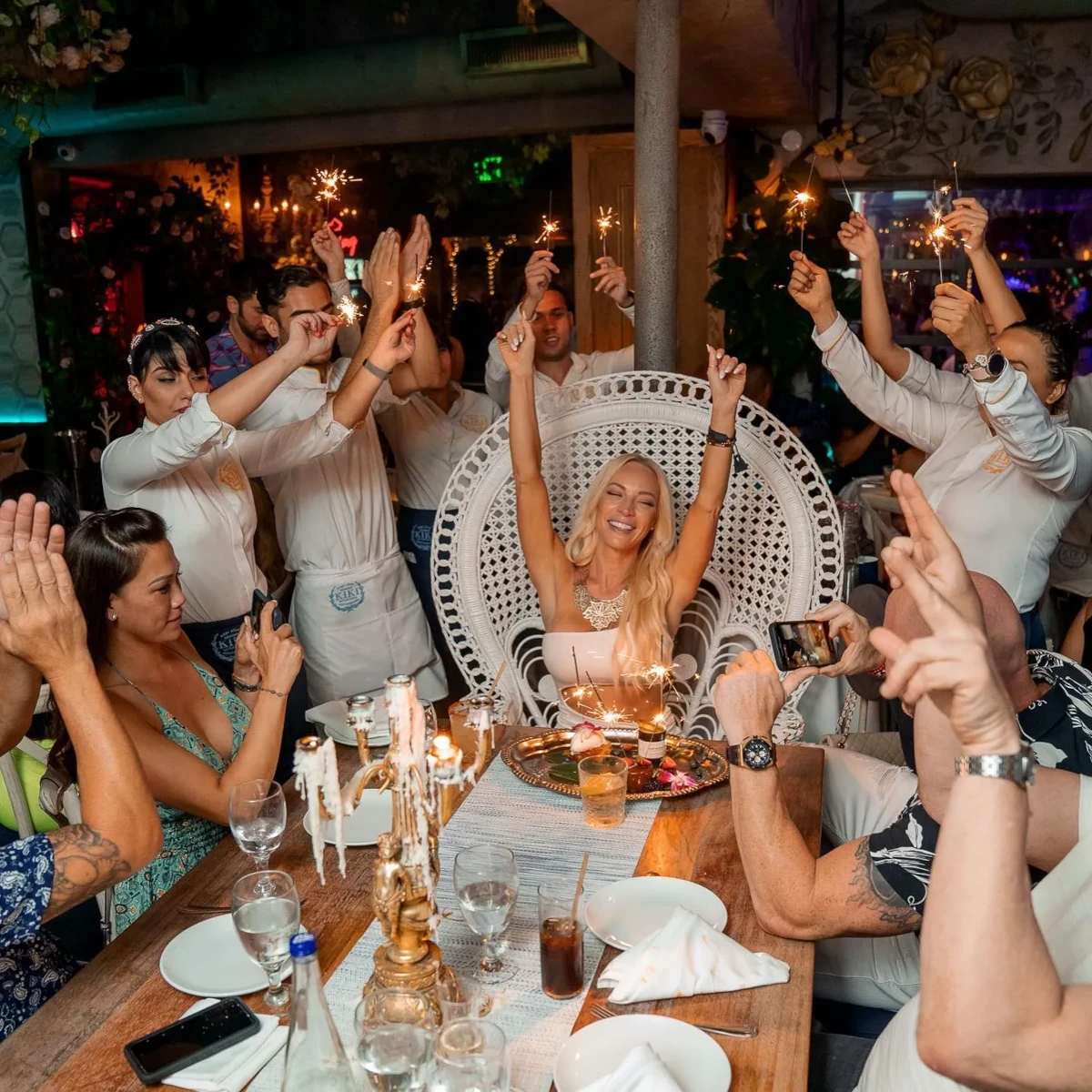 And party restaurants also have shows, performers, DJs, and even sometimes live bands.
Others bring popular artists for exclusive showcases.
With the world steadily moving towards experiences over simply offering services, this trend is expected to keep skyrocketing in popularity.
The Most Popular Party Restaurants In The World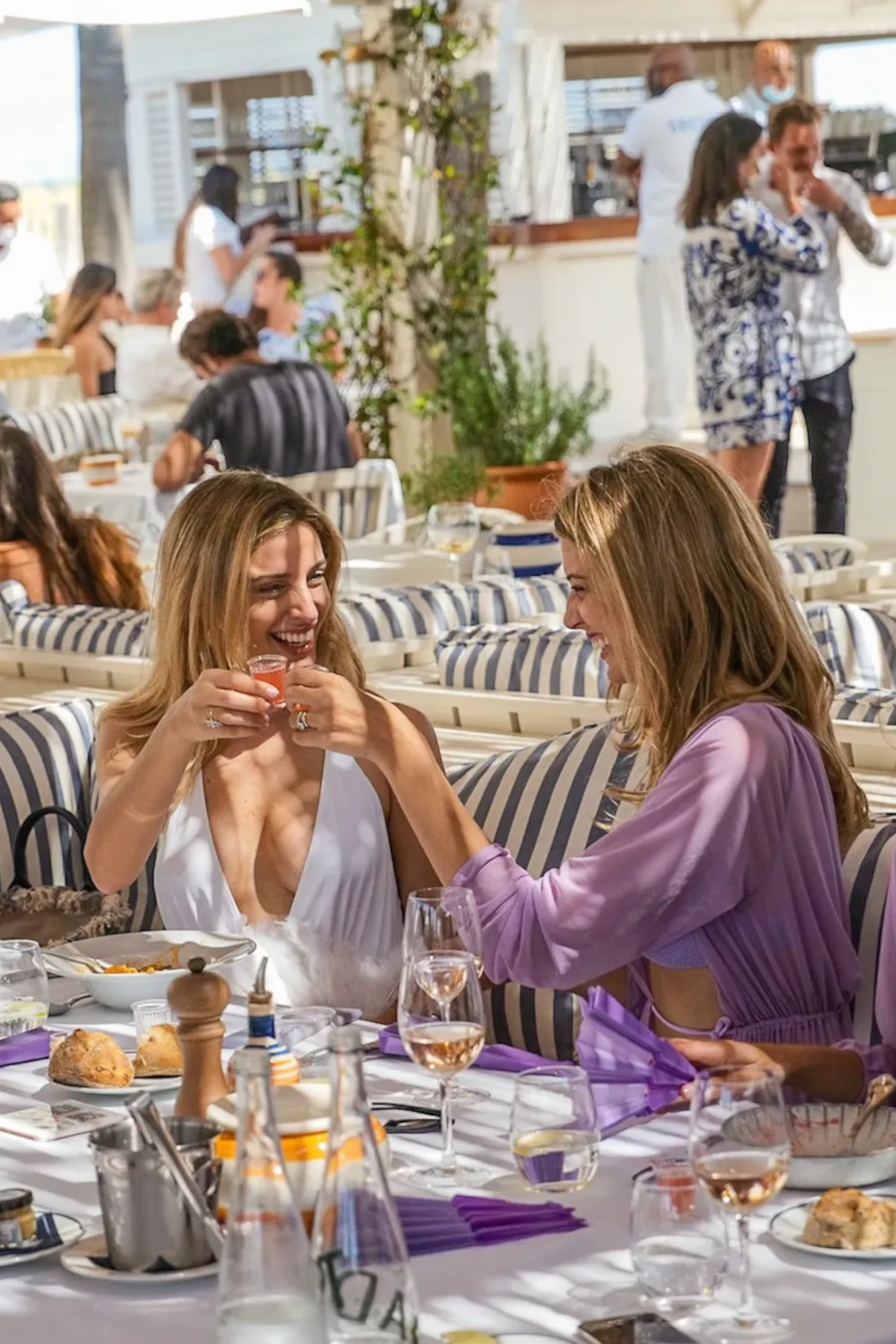 This movement has raised some household names that make the party restaurant trend shine.
Among the best restaurants that represent this trend, we find:
Kiki on the River (Miami, USA): A blend of Greek cuisine with Miami vibes. Once the sun sets, Kiki becomes a lively spot with music that attracts you to the dance floor.
Bagatelle (Multiple Locations): Known for their brunch parties, Bagatelles offers French Mediterranean dining. But as the day progresses, be ready for a music-filled transformation that transforms the place into a lively beach-club-like party.!
Billionaire (Dubai, UAE): This luxurious spot offers fine Italian cuisine. After enjoying the flavors of Italy, the place comes alive with energetic beats, performers and shows, and a very lavish party experience.
Verde (Multiple Locations): Experience a fusion of South American flavors with a modern twist at Verde. The restaurant also transforms into a dancefloor as the night wears on, with Latino music that invites guests to the dance floor.
Coya (Multiple Locations): Peruvian delights meet DJ beats at Coya. While the food is rich in flavor, the post-dinner scene, complete with Latin music, ensures the night remains spicy.
And this list wouldn't be complete without yours truly, Pastel Bangkok.
The Party Restaurant Experience at Pastel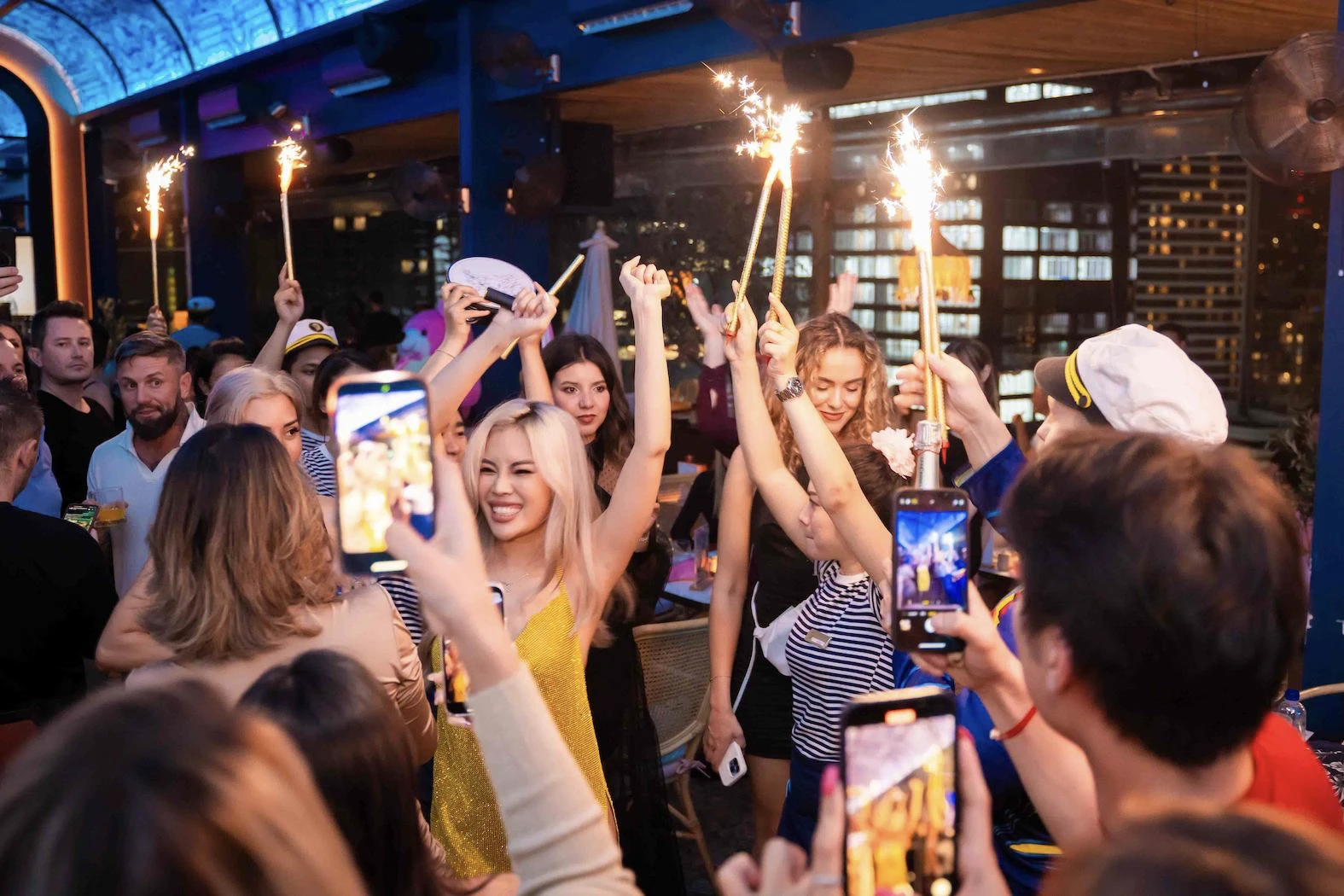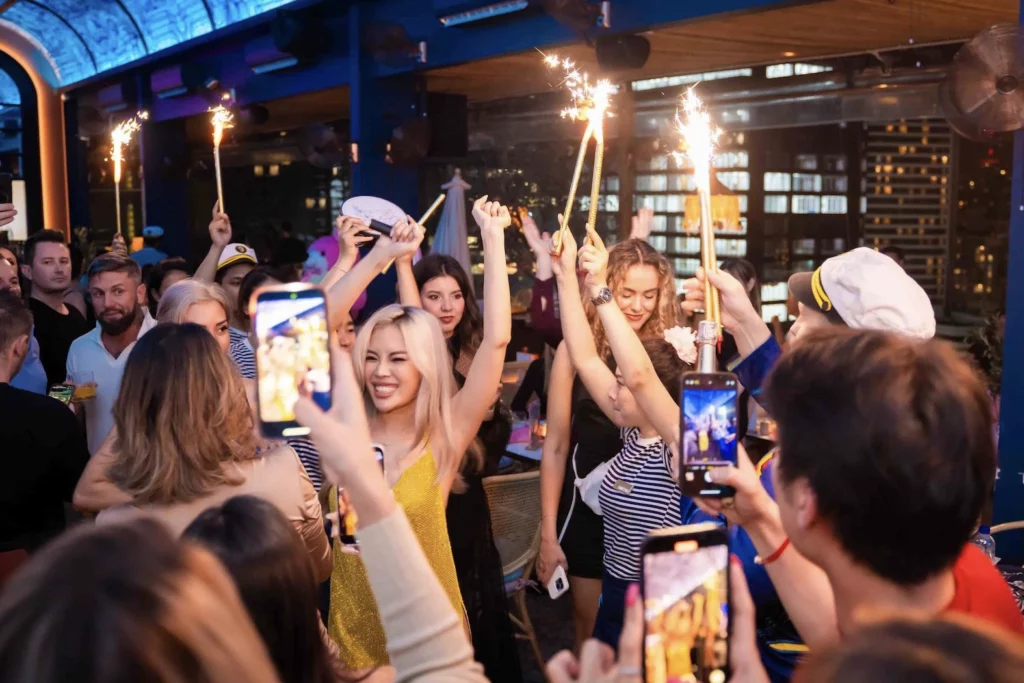 Come to Pastel and watch the sunset over Bangkok.
It's a great place to relax after work or begin a fun night out.
Our special sunset menu is full of great food and drinks to make your evening special.
As the night progresses, people arrive to dine and try our fine dining menu with a large variety of choices.
From seafood to truffle, and vegan options, there is something for everyone.
And as the night continues, we dim the light, turn up the music, the live performers start, and the bottle service begins.
The rooftop bar slowly turns into a nightclub attracting the most beautiful people in the city.
Come Try A Party Restaurant
Ever wanted to be part of a global trend?
Here's your chance.
Pastel Bangkok embodies the spirit of the party restaurant trend, offering not just exquisite Mediterranean fusion cuisine, but also an ambiance that will make you want to dance and party all night.
People around the world are dancing at their dinner tables.
Isn't it time you joined in?
Book your table at Pastel now for an exciting evening and be part of the worldwide sensation.
See you dining and partying at Pastel – fork in one hand, cocktail in the other!